Getting rights right
Digital rights management is becoming more important as we head towards chargeable content. Danny Bradbury finds out more.

Download this free guide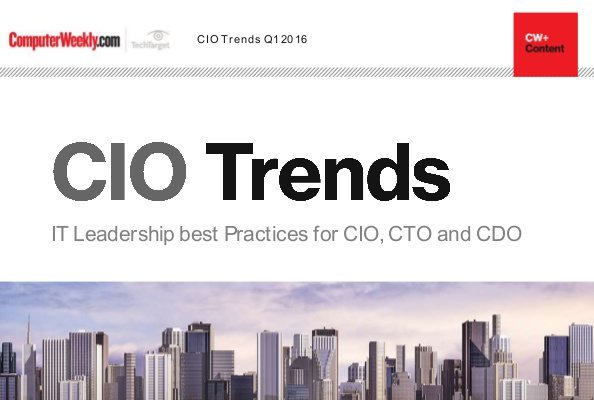 Your exclusive guide to CIO trends
A collection of our most popular articles for IT leaders from the first few months of 2016, including: - Corporate giants recruit digitally-minded outsiders to drive transformation - Analytics platforms to drive strategy in 2016 - Next generation: The changing role of IT leaders.
By submitting your personal information, you agree that TechTarget and its partners may contact you regarding relevant content, products and special offers.
You also agree that your personal information may be transferred and processed in the United States, and that you have read and agree to the Terms of Use and the Privacy Policy.

Digital rights management is becoming more important as we head towards chargeable content. Danny Bradbury finds out more.



What is DRM and why do we need it?
Digital rights management (DRM) is the generic term for technologies that enable content providers to protect their material. In many cases, companies using DRM are able to build specific rights into their systems that enable end-users to do specific things with the content that they download.

For example, a DRM system could allow a document to be downloaded and viewed twice, but might require a payment to be made if it is to be viewed more than that. Or it might enable customers to pay to unlock chapters of an e-book, or to allow just the first 10 seconds of a video clip to be viewed, requiring payment for viewing the rest.

The need for DRM is increasing as the Internet becomes more content-centric. The general ambivalence towards a free Internet supported by advertising revenues is growing, based largely on the general dotcom crash, and in particular on the ailing fortunes of many companies that were relying on advertising for their profits.

Companies are exploring charging models for content as an alternative revenue stream, but they're understandably worried by a lack of content security, leading to potential piracy problems.

You will find DRM mentioned in the same breath as e-books, online music (especially post-Napster), and online video, although the potential for the latter is limited by the bandwidth currently available to consumers.

Who is proposing it?
There have been various DRM proposals, dealing with legal and technical issues. On the legal side, the most recent and broadest in scope was the proposal of a draft bill in the US, called the Security Systems Standards and Certification Act (SSSCA).

It stipulates that all new interactive devices designed to display content must have a security technology built in to avoid the playing of unauthorised content. The 1998 Digital Millennium Copyright Act (DMCA), which is now law, prohibits the circumvention of copyright protection.

On the technical side, the Secure Digital Music Initiative, is a standards movement designed to protect online music, which has the support of over 180 companies. Unfortunately, commercial devices supporting the technology are thin on the ground. Also in the frame is the 4C Entity, a group including companies such as IBM and Intel, which has produced a content protection technology called the Content Protection for Recordable Media standard, designed to protect content when copied to devices such as MP3 players. The 4C Entity group is a member of the SDMI consortium.

Who is opposing it?
Most libertarian groups with any technology expertise, are fighting the DRM advocates. On the legal side, the Anti-DMCA group has been busy protesting against US copyright protection law because it considers the DMCA too restrictive. Hi-tech companies like Intel and Compaq are opposing the SSSCA draft bill (which is supported by content providers like Disney) because they consider it to be an overtly intrusive move by the government into the commercial sector. Supporters of Russian hacker Dmitry Sklyarov are also against the DMCA.

He was charged with contravention of the DMCA after he presented details of a technology to crack Adobe's eBook reader software. The SDMI group's activities have similar overtones - it challenged the hacker community to have a go at cracking its software, and then issued a lawsuit to muzzle several hackers and prevent them from revealing how they succeeded.

What is the biggest obstacle for DRM?
Most opponents of DRM seem to be at odds with restrictions surrounding the technology, (because DRM itself is not secure) rather than opposing the technology itself. Successful attempts to crack these technologies have created some instability in the industry, as companies are understandably unwilling to commit to a flawed, insecure standard.

Another obstacle for DRM is the lack of standardisation. SMDI only deals with digital music but there are other forms of technology to contend with, not to mention things like software licence management, which overlap into the DRM area. With more than one technology floating around, manufacturers are loath to commit to one solution for their devices; and content providers can feel bewildered about which DRM product or technology to use.

How can I use it?
In spite of the confusion over standards and the worry about cracked standards, all is not lost - even with all these problems DRM is better than unprotected content if you're trying to run a content-based business. And there are various companies out there who can help you. Microsoft, for example, has a DRM server for its Windows Media player. The advantage here is that it integrates the server, desktop player and PDA-based media players. Intertrust also offers a tailored system for DRM. Companies are already using DRM to good effect; Audible (www.audible.com), for example, uses its own player to manage digital rights for audio books, which it sells online.
www.sdmi.org
www.4centity.com
www.anti-DMCA.org
Read more on IT risk management