Internet giants must be more conscious of datacentre greenhouse gas, says report
A major benchmarking report into the carbon reduction and energy strategies of internet and social networking giants has revealed a major lack of transparency which will have to be addressed as carbon reporting becomes mandatory.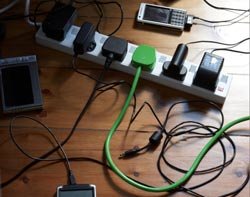 A major benchmarking report into the carbon reduction and energy strategies of internet and social networking giants has revealed a major lack of transparency which will have to be addressed as carbon reporting becomes mandatory.

Download this free guide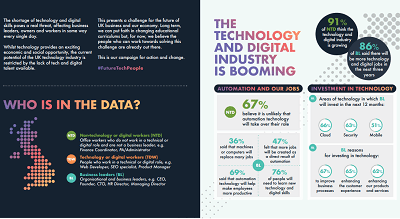 Infographic: Future-proofing UK technology
The shortage of technology and digital skills poses a real threat, affecting business leaders, owners and workers in some way every single day. Whilst technology provides an exciting economic and social opportunity, the current potential of the UK technology industry is restricted by the lack of tech and digital talent available. This presents a challenge for the future of UK business and our economy. Long term, we can put faith in changing educational curriculum but, for now, we believe the people who can work towards solving this challenge are already out there.
By submitting your personal information, you agree that TechTarget and its partners may contact you regarding relevant content, products and special offers.
You also agree that your personal information may be transferred and processed in the United States, and that you have read and agree to the Terms of Use and the Privacy Policy.
The survey carried out by sustainable business analyst firm Verdantix analysed the 14 biggest global companies in the sector, including Akamai, Amazon, Apple, eBay, Expedia, Facebook, Google, Salesforce and Yahoo.
The report concluded that a more strategic approach to energy and carbon management is needed from these firms, which are heavy users of datacentres, which contribute to significant energy consumption. In the US, for example, it is estimated that 3% of total electricity used is consumed by datacentres. According to the US Environmental Protection Agency, datacentre energy consumption doubled between 2000 and 2006.
"Due to their rapid growth and global prominence, internet and social networking firms such as Facebook and Google will be confronted by a barrage of energy and carbon emissions challenges," said Verdantix director, David Metcalfe. "These include rising energy spend tied to exploding datacentre usage, the potential negative impact of energy price volatility on financial results and public criticism of sustainability commitments by groups such as Greenpeace and the Beijing-based Institute of Public and Environmental Affairs. Big datacentre users such as Amazon and Salesforce cannot ignore the closing jaws of mandatory carbon reporting indefinitely."
Facebook datacentre criticised
The report revealed that Facebook has been criticised because it has a datacentre in Prineville, Oregon, which is being powered by coal-fired electricity.
Facebook is not yet obliged to report its financial accounts because it is private and without a stock market listing is not pursued by the Carbon Disclosure Project (CDP) for carbon data. Facebook expects to make its finances public by April 2012, which might trigger a change in the firm's stance on CO2 reporting.
But the company does have internal targets. Google has been tracking its carbon emissions internally since 2006 and it employs an auditor. Its submissions to the CDP, which only refer to its US operations, contain everything except its actual emissions figures and energy use. Google argued that to do so would give away its competitive advantage. In 2007, Google committed to become a carbon neutral firm.
Energy management a priority
"To remain competitive the world's largest internet and social networking firms need to keep energy costs under control and protect the brand with transparent carbon communications," said Janet Lin, Verdantix senior manager. "Facebook should deploy energy management software to enhance energy cost control and facilitate greenhouse gas (GHG) reporting. Carbon management laggards should reduce brand risk by paying for assurance of their GHG inventory data.
"Given their stellar growth rates, the 14 firms in this study cannot deliver absolute reductions in carbon emissions through energy efficiency. Instead they should track performance against intensity metrics such as Carbon Usage Effectiveness in datacentres. Risks from ignoring energy and carbon management will grow over time - not shrink."
A similar Verdantix survey that looked at IT service providers released in June this year, revealed that despite putting a lot of effort into reducing energy consumption, service provider power consumption is rising. The explosion in demand for datacentre services means suppliers are increasingly inheriting customer energy consumption as part of outsourcing deals so they are attempting to meet targets through other means.
---
Photo: Martin Poole