Steve Jobs resigns as Apple CEO, names Tim Cook as successor
Steve Jobs has stepped down as Apple CEO after a second bout of medical leave since the start of the year. Tim Cook, Apple's chief operating officer,...
Steve Jobs has stepped down as Apple CEO after a second bout of medical leave since the start of the year.
Tim Cook, Apple's chief operating officer, will replace Jobs as CEO and will join the company's board immediately. Jobs has been elected chairman of the board.

Download this free guide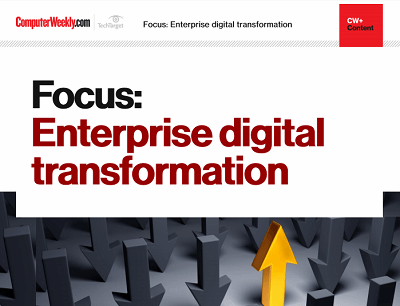 Are you digital to the transformation?
Digital transformation - the buzzword that we can't get away from. Enterprises need to accelerate their digital transformation journeys to avoid being left behind in an increasingly digital world. It's not an easy feat, but one that can be costly to get wrong. Join us as Computer Weekly takes a look at how businesses can stay on track through collaboration, innovation, and listening to user needs.
By submitting your personal information, you agree that TechTarget and its partners may contact you regarding relevant content, products and special offers.
You also agree that your personal information may be transferred and processed in the United States, and that you have read and agree to the Terms of Use and the Privacy Policy.
Reasons for Jobs's resignation are undisclosed. In a letter to the company's board, Jobs said, "I have always said if there ever came a day when I could no longer meet my duties and expectations as Apple's CEO, I would be the first to let you know. Unfortunately, that day has come."
Jobs added, "I believe Apple's brightest and most innovative days are ahead of it. And I look forward to watching and contributing to its success in a new role."
Art Levinson, chairman of Genentech, said on behalf of Apple's board, that Jobs had "saved" Apple to make it the world's most valuable technology company.
"In his new role as Chairman of the Board, Jobs will continue to serve Apple with his unique insights, creativity and inspiration," he added.
Jobs took a further bout of medical leave in January 2011 following six months' medical leave in 2009, during which time he had liver transplant surgery.
Jobs had surgery in 2004 for pancreatic cancer, which medical experts have said explains the liver transplant.
The Wall Street Journal (WSJ), reported that Apple's shares fell 5.13% in after-hours trading following the announcement.
However, analysts doubted Jobs's resignation will impact Apple's product strategy.
In a blog post, JP Gownder, analyst at Forrester, said, "Apple's position in consumer product markets won't be affected by Jobs' change in role today, tomorrow, or for many years. Apple's ecosystem is strong and will stay so."
Michael Gartenberg, research director at Gartner added, "While this marks the end of an era for Apple, it's important to remember the there's more to Apple than any one person, even Steve Jobs. Continuing as chairman, Jobs will continue to leave his mark on both the company and products even as he transfers the reigns to Cook."
Tim Cook was previously responsible for worldwide sales and operations, including management of re-seller and supplier relationships.
Read more on Operating systems software