Microsoft is offering a $250,000 reward for new information resulting in the identification, arrest and criminal conviction of those behind the notorious Rustock botnet.
At its height, Rustock was sending up to 30 billion spam e-mails every day, but was taken down during a Microsoft-led operation in March 2011.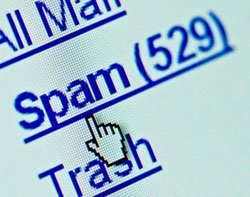 "This reward offer stems from Microsoft's recognition that the Rustock botnet is responsible for a number of criminal activities and serves to underscore our commitment to tracking down those behind it," wrote Richard Boscovich, senior attorney, Microsoft Digital Crimes Unit in a blog post.
While the main goal of Microsoft's legal and technical operation has been to stop and disrupt the threat Rustock posed, the company also believes the Rustock bot-herders should be held accountable for their actions, Richard Boscovich wrote.
In addition to sending out billions of spam e-mails, the Rustock botnet was responsible for a number of other crimes. These included advertising counterfeit or unapproved versions of pharmaceuticals and violating the trademarks of the pharmaceutical manufacturer Pfizer and Microsoft.
Residents of any country are eligible for the reward because the Rustock botnet affected the internet community worldwide, said Boscovich.
Anyone with information on the Rustock botnet or its operators is invited to contact Microsoft at avreward@microsoft.com.
Although the Rustock botnet infection base has been cut in half (56.12% down worldwide) since the takedown, there are still hundreds of thousands of infected computers around the world yet to be cleaned of the botnet malware, according to Boscovich.
Figures released by Microsoft in July show there were still more than 700,000 computers worldwide infected with Rustock in June 2012.
India is still at the top of the infection chart, with just over 99,000, followed by the US with around 55,700 and Turkey with 50,400. The UK was not listed in the top ten countries.
Email Alerts
Register now to receive ComputerWeekly.com IT-related news, guides and more, delivered to your inbox.
By submitting your personal information, you agree to receive emails regarding relevant products and special offers from TechTarget and its partners. You also agree that your personal information may be transferred and processed in the United States, and that you have read and agree to the
Terms of Use
and the
Privacy Policy
.