No big bang, just a Bing as Microsoft unveils new search engine
Microsoft has officially unveiled its enhanced search service, dubbed "Bing", but concedes it is unlikely...
Microsoft has officially unveiled its enhanced search service, dubbed "Bing", but concedes it is unlikely to make any significant gains on rivals Google and Yahoo in the short term.

Download this free guide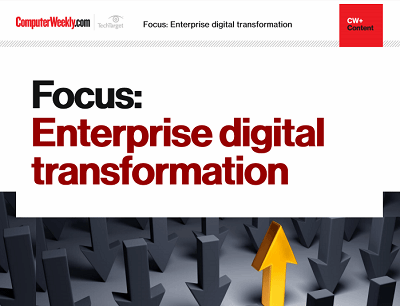 Are you digital to the transformation?
Digital transformation - the buzzword that we can't get away from. Enterprises need to accelerate their digital transformation journeys to avoid being left behind in an increasingly digital world. It's not an easy feat, but one that can be costly to get wrong. Join us as Computer Weekly takes a look at how businesses can stay on track through collaboration, innovation, and listening to user needs.
By submitting your personal information, you agree that TechTarget and its partners may contact you regarding relevant content, products and special offers.
You also agree that your personal information may be transferred and processed in the United States, and that you have read and agree to the Terms of Use and the Privacy Policy.
Chief executive Steve Ballmer told an industry conference that he did not expect Live Search's successor to grow Microsoft's share of the search market quickly, according to the Financial Times.
"My time frame is lots of years. There's no way to change the game in one step," he said.
According to Ballmer, Bing is Microsoft's first step in a long-term effort to enable users to find information they can use to accomplish tasks and make decisions.
When Bing is launched worldwide next week it will finally give Microsoft the ability to return search results that are as relevant as those of its nearest rivals, according to analysts.
Unlike Live Search, Bing will sort search results into categories, said Microsoft, and includes partnerships with shopping, travel, health and business sites.
But Bing is still under development, according to Microsoft, with the full version scheduled to be completed only within the next year.
There was no announcement of a search deal with Yahoo, despite industry expectations.
Speculation of a deal was fuelled by Microsoft's recent registration of a limited liability company in Delaware and Yahoo chief Carol Bartz's indications earlier this week that talks were still open.
Read more on Operating systems software