Server market at crossroads: IDC
IDC reports that the server market is due to hit an important inflection point this year, when for the first time more than half...
This Article Covers
RELATED TOPICS
IDC reports that the server market is due to hit an important inflection point this year, when for the first time more than half the number of units shipped will have a virtualisation component.

Download this free guide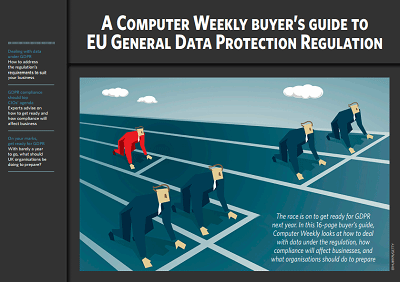 Computer Weekly's Buyer's Guide to GDPR
The race is on to get ready for GDPR next year. Computer Weekly looks at how to deal with data under the regulation, how compliance will affect businesses, and what organisations should do to prepare.
By submitting your personal information, you agree that TechTarget and its partners may contact you regarding relevant content, products and special offers.
You also agree that your personal information may be transferred and processed in the United States, and that you have read and agree to the Terms of Use and the Privacy Policy.
The analyst group said that sales of virtualised servers in Western Europe increased by 26.5 percent last year to hit 358,000 units.
Giorgio Nebuloni, research analyst with IDC European Systems and Infrastructure Solutions, said that the accelerated adoption on the x86 side of the server market is making virtualization a crucial factor, changing the approach of suppliers and the deployment habits of customers throughout Europe.
"In 2008, approximately 18.3 percent of all servers shipped in Western Europe were virtualized, against 14.6% in 2007, and we expect the percentage to grow to almost 21% in 2010. More importantly, last year, and for the first time ever, the number of virtual machine (VM) shipments exceeded the number of physical servers shipped, topping 2 million units."
The overall market was however very flat.
Networking equipment builder Cisco Systems announced its foray into the server market in March, a move which is expected to further drive the trend towards virtualisation.
IDC notes that the current recession is the main factor driving demand for VMs. By 2013 it predicts that the ratio between virtual and physical server shipments will be 3:2. In parallel, the number of logical machines (physical and virtual) shipped is expected to grow strongly, and IDC projects they will increase by 15.7% through 2013. This makes management tools more and more pivotal, as both virtual and physical servers have to be operated, monitored, and patched.
IDC warns that the exodus towards virtualisation is presenting unique challenges for IT managers, not least of which is the management of large and rapidly growing systems.
The study, Western Europe Server Virtualization Forecast and Analysis, 20072013, IDC #GE06R9), focuses on 16 European countries (Austria, Belgium, Denmark, Finland, France, Germany, Greece, Ireland, Italy, Netherlands, Norway, Portugal, Spain, Sweden, Switzerland, United Kingdom).
Read more on Server hardware