BCS think-tank to help cybercops
The British Computer Society (BCS) has set up a specialist thinktank to help police and others fight increasingly...
The British Computer Society (BCS) has set up a specialist thinktank to help police and others fight increasingly sophisticated online fraud ahead of the 2012 Olympic Games in London.

Download this free guide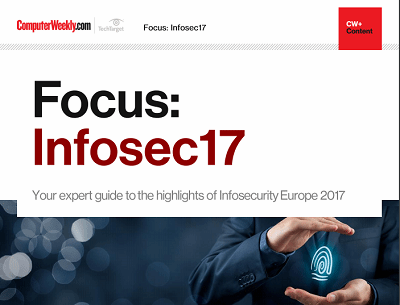 From forensic cyber to encryption: InfoSec17
Security technologist Bruce Schneier's insights and warnings around the regulation of IoT security and forensic cyber psychologist Mary Aiken's comments around the tensions between encryption and state security were the top highlights of the keynote presentations at Infosecurity Europe 2017 in London.
By submitting your personal information, you agree that TechTarget and its partners may contact you regarding relevant content, products and special offers.
You also agree that your personal information may be transferred and processed in the United States, and that you have read and agree to the Terms of Use and the Privacy Policy.
The BCS Cybercrime Forensics Specialist Group was a response to "the explosion in UK-based cybercrime", the BCS said. It will give special attention to the role of cyber forensics in gathering, processing and interpreting digital evidence for criminal investigations.
The BCS said the UK is second after the US for the number of cybercriminals, who cost the UK an estimated £6bn a year. "This is according to the latest PricewatrerhouseCoopers Internet Crime Report for the Department for Business Enterprise and Regulatory Reform, which places Britain ahead of cybercrime hotspots Nigeria and Romania," it said.
The BCS Cybercrime Forensics Specialist Group will focus on the latest developments in cybercrime forensics in the UK, worldwide legal issues surrounding cybercrime forensics, and consider the process of accrediting expert witnesses in court cases.
It will also work with the National Police Improvement Agency (NPIA) and will be involved in an established annual international conference on Cybercrime Forensics Education and Training (CFET).
Denis Edgar-Nevill, the group's chairman, said, "We particularly want to look at how the Chinese tackled this issue in the lead up to this year's Olympics Games. As we move closer to 2012, cybercrime will become an even more important focus for the UK."
Edgar-Nevill said the growing complexity and vulnerability of computer systems, coupled with ever-evolving forms of criminal activities, needed continual research and development to safeguard the integrity and security of systems for computer users. The BCS Cybercrime Forensics Specialist Group would also try to meet a growing demand for qualified people to help in cybercrime investigations.
Members of the group include academic experts in the field of cybercrime forensics, those involved in or supporting law enforcement activities, as well as computer specialists and lawyers.
They will help develop standards for the recovery and analysis of information, and advise on the creation of laws, training and accreditation for those preparing criminal court case material. They will also offer to assess the quality of software tools used by police cybercrime forensic teams.
The inaugural meeting of the specialist group was held today at CanterburyChrist Church University.
Read more on IT risk management