BT has stolen some of Virgin Media's high-speed broadband thunder with an announcement today that it is teaming up with television broadcasters BBC and ITV to offer video-on-demand services over broadband.
Video-on-demand requires very high speed downloads to appeal to users. Virgin Media will launch its 50mbps broadband service on Monday, which will offer this capability. It has also been in talks with content providers for them to use this network to distribute their content.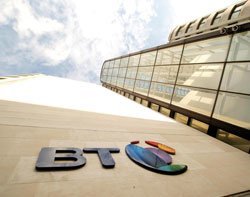 BT, BBC and ITV hope the deal will lead to a new generation of subscription-free devices to carry free to air channels and on-demand TV services such as iPlayer and ITV Player. It expects to offer high-speed downloads of films, shows and other interactive content from other providers in standard and high definition.
The partners will push for an open, standards-based environment for broadband-based TV receivers that they hope internet service providers, public service broadcasters and device developers will back.
A Virgin Media spokesperson said it was not clear how the BBC proposals would develop. "It is these types of converged services which play to the strengths of having a fast broadband connection. The consumption of online content is growing at a rapid rate, and the availability of any mass-market service will help drive the demand for ultrafast 50mbps broadband."
Virgin Media customers are likely to pay for their high-speed services, but the BT/BBC/ITV offer is aimed at expanding their free to view services. These include watch-again and archival material.
A BT spokesman said it was too early to give details of who would take part in talks on standards, or what standards and connection speeds might come out of them.
He denied that the announcement was aimed at spoiling Virgin Media's launch, saying the timing was set by the BBC Trust's response to an Ofcom enquiry.
He said he expected Ofcom to take note of the association. Ofcom is investigating the best way to support the introduction of high-speed broadband networks.
Several market research reports earlier this year suggested that consumer demand for high-definition video was the required foundation for a national broadband service capable of speeds faster than at least 2mbps.
The trio's plans are subject to BBC Trust approval and public consultation. The BT spokesman said he was not at liberty to disclose the launch date.
For more see
Private sector should drive demand for high-speed broadband
Email Alerts
Register now to receive ComputerWeekly.com IT-related news, guides and more, delivered to your inbox.
By submitting your personal information, you agree to receive emails regarding relevant products and special offers from TechTarget and its partners. You also agree that your personal information may be transferred and processed in the United States, and that you have read and agree to the
Terms of Use
and the
Privacy Policy
.