Vista's arrival promises a 'business transformation'
Microsoft has promised a transformation in business productivity across a range of office tasks when businesses roll out Windows Vista, Office 2007 and Exchange Server 2007.
Microsoft has promised a transformation in business productivity across a range of office tasks when businesses roll out Windows Vista, Office 2007 and Exchange Server 2007.

Download this free guide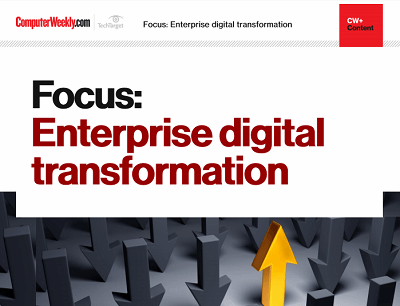 Are you digital to the transformation?
Digital transformation - the buzzword that we can't get away from. Enterprises need to accelerate their digital transformation journeys to avoid being left behind in an increasingly digital world. It's not an easy feat, but one that can be costly to get wrong. Join us as Computer Weekly takes a look at how businesses can stay on track through collaboration, innovation, and listening to user needs.
By submitting your personal information, you agree that TechTarget and its partners may contact you regarding relevant content, products and special offers.
You also agree that your personal information may be transferred and processed in the United States, and that you have read and agree to the Terms of Use and the Privacy Policy.
At the launch of Vista and Office 2007 last week, the company said that in tests of beta products, 79% of users said they could perform common tasks more quickly.
It also claimed that improved security and administration features would cut support costs by £18 per desktop per year.
Gordon Frazer, Microsoft's UK managing director, said, "These products deliver game-changing innovation. They will enable UK companies to unleash the full potential of their people to build profitable relationships with customers, spearhead new innovations and drive business success.
"Although many customers will deploy products separately, together they will fundamentally change the way companies get value from business information."
Microsoft also said that integration with its Sharepoint Server portal technology and the extensive use of a new XML file format would allow users to share work more easily and reduce duplicated effort.
Microsoft also said the release would benefit the UK economy, claiming that investment in software upgrades and associated services, together with increased productivity, would create 30,000 jobs in the UK, according to research it commissioned.
However, Gartner vice-president and research director Michael Silver said that although productivity would increase, there would also be some pain for businesses in the transition to the new system. "For business, the new interface will initially be more of an annoyance. It is not difficult, but users will need to adjust."
The new XML file format could also create difficulties. "The old file format issue is coming back. There is an XML format in Office 2007, and although you can exchange files, it could result in some problems," said Silver.
However, Frazer said any teething problems would be short-lived. "If there is a drop in productivity in the short-term, it will be only a matter of days or weeks, or a month at the most, before it outstrips pre-roll out levels," he claimed.
Microsoft has recommended that even if firms do not intend to roll out the new version of Office soon, they should download its file converters to be able to use documents created by Office 2007 users.

Early adopters
Budget airline EasyJet is one early adopter and plans to use a desktop "gadget" feature in Vista to allow it to offer business customers access to flight price, time and availability information without them having to open a browser. It could also offer flight times once a meeting had been booked in Outlook, with the aim of increasing its share of the business travel market.
Another early adopter, Newham Council, had found a 25% reduction in e-mail because of the greater use of instant messaging allowed by the new releases.
Through mobile working, home working and flexible working, Newham Council believes it can achieve 30% reduction in the number of office desks it requires

Comment on this article: computer.weekly@rbi.co.uk

Read more on Operating systems software