Network chip makers agree on faster spec
Several makers of network components have agreed on a specification for high-speed communication among their chips, which could...
Several makers of network components have agreed on a specification for high-speed communication among their chips, which could lead to smaller, less power-hungry and less expensive network gear.

Download this free guide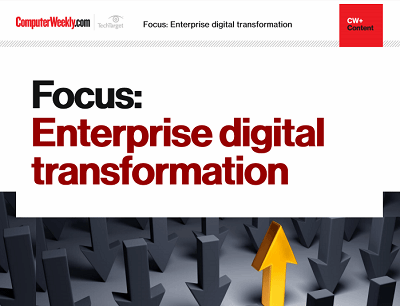 Are you digital to the transformation?
Digital transformation - the buzzword that we can't get away from. Enterprises need to accelerate their digital transformation journeys to avoid being left behind in an increasingly digital world. It's not an easy feat, but one that can be costly to get wrong. Join us as Computer Weekly takes a look at how businesses can stay on track through collaboration, innovation, and listening to user needs.
By submitting your personal information, you agree that TechTarget and its partners may contact you regarding relevant content, products and special offers.
You also agree that your personal information may be transferred and processed in the United States, and that you have read and agree to the Terms of Use and the Privacy Policy.
The suppliers announced the creation of the Unified 10Gbps Physical-Layer Initiative (UXPi), a group that will promote the common specification and present it to the Optical Internetworking Forum for approval as a standard, according to Tom Palkert, a systems architect at UXPi member company Applied Micro Circuits (AMCC).
A common standard should make it easier to build routers and switches that offer 10Gbps network interfaces, he said.
In order for these kinds of systems to support interfaces such as 10-Gigabit Ethernet, chips inside the routers and switches have to communicate at 10Gbps.
UXPi is promoting a common specification for 10Gbps connections including chip to chip and across a system's backplane. Members include AMCC, IBM, Infineon Technologies, Texas Instruments and Xilinx.
If a supplier can find electrically compatible components for all the key parts of a networking device, that supplier should be able to mix and match parts from several suppliers, Palkert said. That can mean faster and less expensive development as well as simpler designs that take up less space and power.
Several emerging network technologies offer 10Gbps speeds, including the OC-192 optical Wan standard and 10-Gigabit fibre channel, in addition to 10-Gigabit Ethernet, said Brian Seemann, director of business management at the communications technology division of Xilinx.
As the industry steps up from earlier 2.5Gbps interfaces, the chip suppliers are standardising for the top speed, he added.
AMCC's Palkert would not predict when the OIF might approve UXPi's specification as a standard, but he said members can get it now and start developing with it.
Stephen Lawson writes for IDG News Service