Telemetry services gain steam
US telecoms company Sprint has struck telemetry deals with a refuse collection company in the US that includes data collection...
US telecoms company Sprint has struck telemetry deals with a refuse collection company in the US that includes data collection and analysis for recycling and odour control systems, as well as with NCR which will deploy wireless services for its banking customers for their self-service ATM networks.

Download this free guide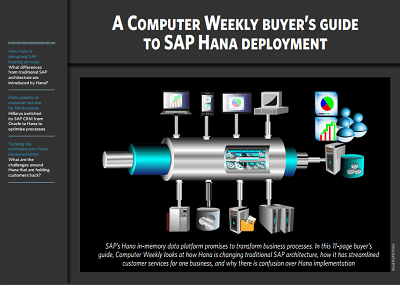 Computer Weekly's Buyer's Guide to SAP HANA Deployment
SAP's Hana in-memory data platform promises to transform business processes. Computer Weekly looks at how Hana is changing traditional SAP architecture, how it has streamlined customer services for one business, and why there is confusion over Hana implementation.
By submitting your personal information, you agree that TechTarget and its partners may contact you regarding relevant content, products and special offers.
You also agree that your personal information may be transferred and processed in the United States, and that you have read and agree to the Terms of Use and the Privacy Policy.
Telemetry is the process of automating the uploading and downloading of data from devices to host sites for analysis. The services Sprint will offer include management tools to allow companies access to its network to manage their own business processes.
Sprint will also work with telemetry solution providers to develop vertical applications for various industries.
Sprint executives estimated that the telemetry business is worth around $1.8bn and will grow to $8.2bn by 2007.
Gartner analyst Ken Dulaney said that machine-to-machine communications is "the next thing" after the internet.
"It's the SuperNet that brings contents from all machines together and makes the internet truly ubiquitous," he said.
However, Dulaney admitted that there were two roadblocks to immediate deployment of telemetry. Designers will need time, measured in a number of years, to get telemetry services designed into products and to be able to wrap programs and support around these new services. He also noted that there are no standard bus interfaces for all of the possible devices that might be linked together.
Nevertheless, he was enthusiastic about the future of telemetry. "There's work that needs to be done but it has enormous potential, the growth is mind-boggling."
Another company using telemetry technology to broaden its offering is @Road, a wireless infrastructure supplier, which announced Exception Services for its @Road GeoManager platform.
Combined with its GPS technology, @Road's Exception Services will allow authorised users to set parameters and respond to activities in the field when those parameters have been breached or crossed.
Read more on Database software