Texas Instruments puts three wireless technologies in one PDA
Texas Instruments has developed a concept design for a PDA that would feature three wireless technologies.
Texas Instruments has developed a concept design for a PDA that would feature three wireless technologies.
The concept design incorporates chips for Bluetooth, 802.11b and tri-band GSM/GPRS wireless networks. Codenamed Wanda (wireless any network digital assistant), the company claimed it was the first to put all three wireless technologies into one device.

Download this free guide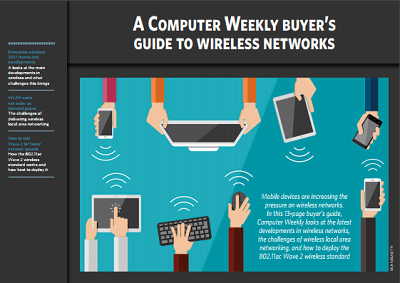 Carrying the heavy wireless burden of mobile devices
Mobile devices are increasing the pressure on wireless networks. In this buyer's guide, Computer Weekly looks at the latest developments in wireless networks, the challenges of wireless local area networking, and how to deploy the 802.11ac Wave 2 wireless standard.
By submitting your personal information, you agree that TechTarget and its partners may contact you regarding relevant content, products and special offers.
You also agree that your personal information may be transferred and processed in the United States, and that you have read and agree to the Terms of Use and the Privacy Policy.
Both Bluetooth and 802.11b use the 2.4GHz frequency of the electromagnetic spectrum to send and receive data, therefore there would be a number of coexistence issues that needed to be worked out before the device could be certified as usable and reliable, said Mike Yonker, chief technologist for wireless computing products.
Texas Instruments would use its own single-chip Bluetooth technology and multichip packages for the 802.11b and GSM/GPRS networks. Last year it announced it was working on a single-chip GSM/GPRS component, which should be ready by the end of 2004.
The concept design shows that Texas Instruments is getting results from some of its acquisitions over the past few years, such as Bluetooth company Butterfly VLSI and 802.11b developer Alantro Communications, Yonker said.
Texas Instruments expected the device to sell for less than $500 (£319), even before subsidies from GSM/GPRS carriers. It willtarget corporate users, although wireless carriers around the world will probably try to come up with innovative pricing plans for consumers.
Devices built using the concept design will run Microsoft's Pocket PC 2002 operating system on Texas Instruments' OMAP1510 processors. It will be available to manufacturers next month, while products are expected in the third or fourth quarters of this year.
The concept design will come with either 32Mbytes or 64Mbytes of Nand flash memory, and 64Mbytes of SDRAM (synchronous dynamic RAM).

Read more on Wireless networking