Outsourcing is inevitable, say CIOs
Businesess will increasingly move IT functions to a hosted services model over the next few years but IT departments will continue to play a crucial role...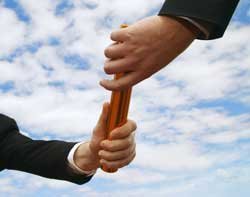 Businesess will increasingly move IT functions to a hosted services model over the next few years but IT departments...
Continue Reading This Article
Enjoy this article as well as all of our content, including E-Guides, news, tips and more.
By submitting your personal information, you agree to receive emails regarding relevant products and special offers from TechTarget and its partners. You also agree that your personal information may be transferred and processed in the United States, and that you have read and agree to the Terms of Use and the Privacy Policy.

will continue to play a crucial role in operations, said leading IT decision makers.
Speaking at the 360°IT event in London, Anthony Hayes, head of IT supplier management at the Royal Mail, said that in order to compete departments will need to keep IT strategy in-house, while outsourcing day-to-day functions.
"When companies outsource they lose responsibility for those functions as they are handing them over to suppliers. However, they still maintain accountability. It just becomes a different mindset and way of working.
"Everybody needs to take shared accountability, which includes ensuring that suppliers deliver. The biggest difference is now we have a bunch of people assuring the delivery of the service, as opposed to delivering everything themselves," he said.
Mark Hall, director of IT at HMRC, agreed. "It doesn't matter who you give the services to, the IT department will still retain accountability," he said.
The government's ICT strategy will involve sharing services across departments, he added. "This is a significant task to undertake. But organisations like HMRC and DWP are committed to doing this. We are in a situation where it is a no-brainer going forward. But it will take time and sequencing. The [forthcoming] spending review will help the sequencing and achievement of that strategy," he said.
But Myron Hryck, CIO Severn Trent, added that while cost reduction remained an important driver for outsourcing, organisations should proceed with caution before using entirely hosted systems models.
"We are going through an exercise where we are looking at a significant amount of outsourcing. However, although my view is that the market has matured, there are still a number of aspects that need to be considered before outsourcing. First, the business risk. Second, the scalability and third, the cost aspect - in my experience that is just one component. If cost was the only aspect then the whole process would be a disaster.
"We are a few years before the technology will deliver all the services to enable us to move large parts of the business onto that platform," he added.