Play-i recently shared this infographic with me, which I thought might interest the WITsend community.
Play-i is passionate about introducing computer science to girls at a young age, which is why it is making a robot that can teach programming concepts to kids ages 5 and up.

Download this free guide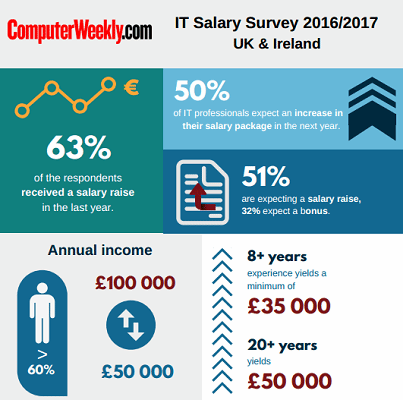 Infographic: How does your salary compare in the UK?
What does 8 years versus 20 years yield in terms of salary in IT? Is management worth it? Quick infographic results from our 2016 UK and Ireland Salary Survey.
By submitting your personal information, you agree that TechTarget and its partners may contact you regarding relevant content, products and special offers.
You also agree that your personal information may be transferred and processed in the United States, and that you have read and agree to the Terms of Use and the Privacy Policy.
Play-i aims to get kids to feel comfortable with programming and be empowered to pursue it before cultural perceptions discourage them.
Thank you for sharing this infographic on how girls are holding themselves back from computer science Play-i!