OSCON London: Linux Foundation unites JavaScript community
The Linux Foundation has used the London OSCON show to detail news of the JS Foundation now attaining status as a Linux Foundation Project.
The JS Foundation supports projects across the JavaScript world and says it is focused on both application and server-side projects to cultivate best practices and policies.

Download this free guide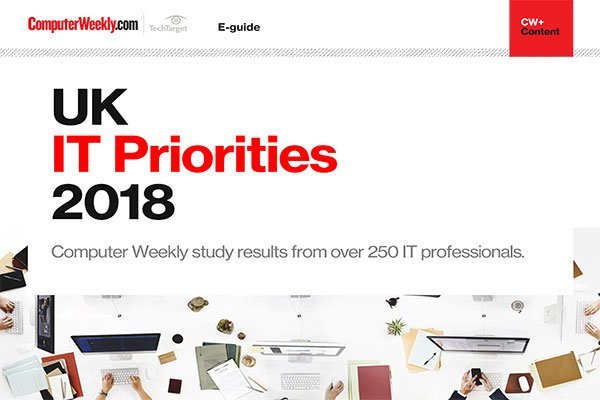 UK IT Priorities 2018 survey results
Download this e-guide to discover the results of our 2018 UK IT Priorities survey, where IT leaders shared with us what they are going to be investing in over the coming 12 months.
By submitting your personal information, you agree that TechTarget and its partners may contact you regarding relevant content, products and special offers.
You also agree that your personal information may be transferred and processed in the United States, and that you have read and agree to the Terms of Use and the Privacy Policy.
Collaboration & sustainability
Now… the JS Foundation touts a new open, technical governance structure and also announces a Mentorship Programme — the overall goal is: to encourage a culture of collaboration and sustainability throughout the JavaScript community.
Initial projects being welcomed into the mentorship program include: Appium, Interledger.js, JerryScript, Mocha, Moment.js, Node-RED and webpack.
"The JS Foundation aims to drive broad adoption and ongoing development of key JavaScript solutions and related technologies and to facilitate collaboration within the JavaScript development community to ensure those projects maintain the quality and diverse contribution bases that provide for long-term sustainability," said Kris Borchers, executive director, JS Foundation.
Blurring the boundaries
Borchers describes JavaScript as a pervasive technology capable of blurring the boundaries between server, client, cloud and IoT.
The JS Foundation is focused on mentoring projects across the JavaScript spectrum and that means: client and server side application libraries; mobile application testing frameworks; JavaScript engines; and new technologies pushing the boundaries of the JavaScript ecosystem.
"This is an exciting time for the JavaScript community," said Angel Diaz, IBM vice president of cloud technology and architecture. "By bringing together the community around core platform technologies and the application tier with the JS Foundation, the industry is establishing a centre of gravity to drive innovation in the open through code, collaboration and community development. We're proud to continue our long tradition of supporting open tech communities by becoming a founding member of the JS Foundation, which we believe will set the bar for openly governed JavaScript projects."
What IBM & Samsung offer
As part of this launch, IBM is contributing Node-RED to the JS Foundation. Node-RED (see: http://nodered.org/) is an environment that has reached adoption among the IoT community by establishing an ecosystem of flows and nodes that are shared by the community at large.
Examples of some the other projects include
Appium, contributed by Sauce Labs, is an open source Node.js server used for automating native, mobile web, and hybrid applications on iOS and Android platforms as well as the recent addition of the Universal Windows Platform. Appium expands JS Foundation's current test framework and tooling offerings into the device automation space.
JerryScript, contributed by Samsung, is a lightweight, fully-featured JavaScript engine for Internet of Things (IoT) devices that ships in commercial products today. As IoT is one of the largest and fastest growing sectors of the JavaScript ecosystem, JerryScript is just the beginning of JS Foundation's efforts to support projects and developers within the IoT ecosystem.
"JavaScript represents huge potential beyond the web. We've already shown how JerryScript, a lightweight JavaScript Engine developed first by Samsung, can enable high efficiency devices across the Internet of Things such as smartwatches, other wearables and tiny things," said vice president Youngyoon Kim of software R&D center at Samsung Electronics. "We invite JavaScript developers, regardless of their background and vertical expertise, to join us in both the JavaScript and IoT ecosystems."
JS Foundation will also build upon its work with standards bodies, such as W3C, WHATWG, and ECMA TC39, to nurture the open standards that browser vendors and developers rely upon.