Virgin Trains
CIO interview: John Sullivan, CIO, Virgin Trains
Digital innovation is a priority for improving passenger experience and internal operations at the train operating company
Virgin Trains is on track with a digital innovation strategy to improve the passenger experience before and after journeys, as well as on-board.
Chief information officer John Sullivan was hired 18 months ago to lead the change agenda with a focus on innovation, which includes projects around digital entertainment, services related to fares and ticketing, and on-board Wi-Fi.
Sullivan, who previously held senior IT positions at firms such as Pizza Express and Byron Burger owner Gondola, Laura Ashley, and Disney Store, also aims to get the IT function to run in a "professional and mature way".
"My experience in introducing and managing change is relevant, and colleague engagement is needed, but also customer education about the business processes," Sullivan tells Computer Weekly.
Since joining Virgin Trains, Sullivan has overseen an increase in innovation spend at the company "that has been justified, as changes are mostly customer-focused".
"I think that's one of the main reasons why we've been able to make this level of change – it's because there's a lot we can do for our customers, and there's a lot of creativity within the business to take these ideas forward," he says.
On-board connectivity
Rolling out Wi-Fi inside Virgin's carriages has been discussed for a few years, and Sullivan calls it an area of "real focus and importance".
On-board connectivity is part of the company's vision for the "digital train of the future", a project that looks at improving train infrastructure as well as the mobile technology trains use as part of its Wi-Fi offering.
"We are looking to soon do a deal with a mobile operator to improve the signal significantly from where it is today. It is also key to resolve the situation of losing signal going through tunnels. The consistency of an internet connection [on-board] is really important," says Sullivan.
"There are a number of ways we can get the ticket to you on your mobile. It's all about choice and convenience for the customer"

John Sullivan, Virgin Trains
He says there is no specific date for the start of the Wi-Fi project, as "things aren't signed off", but Sullivan implied the process of choosing suppliers could be advanced in the next couple of months.
The cost benefit analysis the team is carrying out has been one of the most crucial aspects of the Wi-Fi project so far, he says. But there are also technology challenges.
"The technical challenge will be making sure the fitment of the train infrastructure is done properly, in terms of the cables, access point changing, switches and the communications gateway being updated in the right way, which I'm sure we could do," says Sullivan.
"The equipment we're looking to put on the train is 21st century equipment."
Developing in-train entertainment
Another initiative introduced since Sullivan joined the company is the Beam app, which streams films, TV, games and magazines to users' devices.
"I think we have superseded the airline entertainment centre because we've focused on the 'bring your own device' model. Passengers don't buy magazines because they are all free of charge on our entertainment centre, as well as a whole bunch of films, catch-up TV and about 12 games to play while you're on our trains," he says.
"This is the most awesome piece of kit you'll have, and the resolution on [smartphones] is much better than what the airline uses in terms of the screen on the back of a person's seat. We're delighted to launch something like this in an industry that hasn't got a great reputation in terms of innovation."
Beam was launched in May 2016, and designed by the IT team at Virgin Trains. Partner GoMedia did the software development, and two content servers were rolled out on the trains. The service is not Wi-Fi based, so passengers are connected to these servers.
"If the train is in a tunnel, or if or you haven't got any Wi-Fi, it doesn't matter. It still works because the service uses the local area network," Sullivan explains.
Now Beam has been introduced, Virgin wants to evolve the service by improving IT infrastructure on trains. Use of the current infrastructure has already been maximised, but to offer the service to 700 customers, the maximum number of passengers on a train, the set-up needs to be bolstered.
"We're taking out the cable switches, access points and gateway, and putting in the latest technology. That will allow us to do a number of good things. For example, the train could achieve what we call 'self-healing', so it understands if there's a problem such as the server needing to be rebooted. It could learn what action it would need to take," says Sullivan.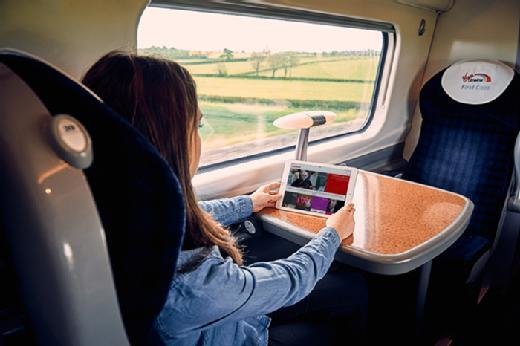 "[With the improvements] we could offer the Beam application to everybody, because we currently have a restriction of 200 people. We want to make a big impact on the industry with a focus on customer entertainment," he says.
"If you're on a two-hour journey from London to Manchester, it's going to feel far shorter if you're watching one of the latest films," adds Sullivan.
The blueprint for how Beam is going to evolve has been defined, and Sullivan's team is in talks with a number of technology companies to develop the infrastructure, which also partly relates to the groundwork required for the Wi-Fi project.
"But that's more of a basic infrastructure project in terms of replacing the cable. While we need technology companies to help us, we also need the companies that maintain the trains to help us, and they are being very helpful," he says, referring to manufacturers such as Bombardier and Alstom.
Improving digital ticketing
Another project that has been a priority for the IT team at Virgin Trains is the evolution of customer-facing services around digital ticketing. Mobile currently accounts for 10% of all tickets sold digitally, and the intention is to offer more customer-focused tools to boost uptake.
"There are a number of ways we can get the ticket to you on your mobile. It's all about choice and convenience for the customer, but the train industry is behind in terms of mobile tickets," says Sullivan.
"Ticketing in the train industry is far too complex, at least in the UK, but our digital ticketing has grown from 0.5% to 10% in a year. We've got a number of plans to improve that even further."
Read more about IT on the railways
Another online service, offered as part of a bid to get more customers to interact directly with Virgin Trains that has been in place for a year, is Automatic Delay Repay. This is a compensation service based on artificial intelligence (AI) technology, aimed at passengers that have been delayed for 30 minutes or more.
"We put the compensation through the customer's bank account without them having to lift a finger, and what we've seen is a significant increase in customers' positive feedback on Virgin Trains," says Sullivan.
"[Building the tool] cost us quite a bit of money, but it's been extremely well received by our customers, as well as the UK government."
Analytics to enhance service and operations
Sullivan's team is also working on data analytics to enhance service and operations.
"When I first joined 18 months ago, the customer probably had more information on our trains than our staff in terms of digital information," he says.
To work around the issue, more mobile phones were rolled out to the frontline workforce to give them up-to-the-minute information about where trains were.
"If, say, a train coming to the station has 12 carriages, [the mobile app] will inform them how busy the carriages are. This provides us with the information to direct the customer to a quiet carriage, for example, or inform them where they can put their bicycle," says Sullivan.
Over the last few months, the IT team has also worked on consolidating data sources for better internal decision-making, across areas such as operations, marketing and IT.
"Putting all the data into one place was one of the most important projects that we did"

John Sullivan, Virgin Trains
"We can get up-to-the-minute revenue figures, information on which routes are performing best, and so on. There are a number of questions the business can now ask the database," he says.
"Putting all the data into one place was one of our most important projects. It's something we started in 2015, and it's well underway. We're just finishing off the bits and pieces of data that aren't in the database yet. It's now a mature project, and it's running very well."
Further initiatives for the next few months include a possible roll-out of Salesforce's ServiceNow product, which improves customer data and messaging with information such as maintenance work alerts and offers.
As Sullivan emphasises the digital transformation aspect of change, a shift has also taken place in terms of how IT is perceived within the business as an enabler of more interesting, creative projects that have a direct impact on the bottom line.
"When I first joined IT, we could implement a PC or upgrade a finance system. Now we've got creativity, and a focus on the customer as well as what we can do for our colleagues," he says.
"It's a far more exciting place to be. We're front line, and not a back-office function any more," concludes Sullivan.
Read more on IT for transport and travel industry