Computer Weekly European User Awards 2014 open for entries
Computer Weekly is running its European User Awards for a second year in 2014. Find out all the details here
The Computer Weekly European User Awards 2014 are now open for entries.
Computer Weekly's awards honour IT professionals, in Europe, that have excelled in their approach to networking, storage, security, enterprise software and datacentres.
Running online throughout 2014, this is the second year Computer Weekly has run its awards series.
Entries are open to IT departments and resellers, or suppliers that wish to enter on behalf of a customer. Please review the entry criteria for further information if you wish to enter a use case on behalf of a client.
A panel of independent judges will review nominations across five categories:
Best product/technology innovation
Supplier of the year
Private sector project
Public sector project
Cloud innovation awards
Categories remain the same across all five awards series.
Winners receive a trophy and are profiled in case studies on Computer Weekly.
Below, you will find more information about each of the awards series running throughout 2014, along with details on last year's winners and stand out entries.
There are no entry fees to enter the Computer Weekly European User Awards.
---
Judging process
Judges will be using the following criteria to assess entries:
Innovation in technology or business processes;
Improving IT management capabilities;
Improving business efficiency or reducing costs;
Demonstrating best practice;
Delivering measurable business benefits.
---
Best of VMworld Europe User Awards 2014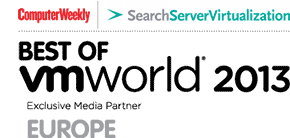 As part of its year-long awards series, Computer Weekly also hosts the Best of VMworld Europe User Awards.
Details of the Best of VMworld Europe User Awards, now in its fifth year, will follow shortly.
For coverage of the 2013 awards winners and conference coverage of VMworld World Europe, click here.