Who speaks for digital employers on their skills needs?
In September it was announced that the UK's main digital skills partnership, the Tech Partnership, will cease operations next year because central government had decided it wished to deal direct with employers instead of via intermediaries, like the Sector Skills Councils. In November Minister Matt Hancock announced the formation of a Digital Skills Partnership Board. In December the chief executive of the IET called for a coming together to address engineering skills. In January the Tech Partnership will be inviting bids to take over its portfolio of projects
I have a distinct feeling of déjà vu. The last Minister to have a professional IT background, the late John Butcher announced a similar high level committee but none of the levers of power were in the DTI and by the time it was wound up in 1985 the Butcher Committee had produced only a series of worthy reports. No substantive action followed until Gordon Brown's Millennium Bugbusters Programme (ten day, intensive hands on courses under industry strength quality control) transformed the supply of microprocessor diagnostic and maintenance skills .
We need a chorus not a cacophony of voices.
At the 2002 IT Skills Summit, John Healey MP, the then Parliamentary Undersecretary of State for Skills, announced plans to use e-Skills as a single point of contact for employers confused by the large array of skills initiatives and consultations that had been exposed the previous year (with one employer logging over 3000 requests for inputs). Unfortunately, he was promoted to the Treasury two hours later and the momentum for radical simplification was lost.
It is unclear what officials currently mean by "dealing direct with employers" or who will be responsible for creating the processes needed. There is, once again, a need to bring together a critical mass of employers to help avoid confusion. The strategy of the Digital Policy Alliance 21CN Skills Group is to use successful local skills partnerships to show what works and help local politicians get re-elected in return for their support. Given the risk of an imminent general election this concentrates minds rather more than lobbying in Westminster .Meanwhile, however, Westminster has "discovered" not only the need to address the student loan time bomb but also the Sutton Trust analyses, which demonstrate that level 4 and 5 apprenticeships improve lifetime earnings more than most degrees.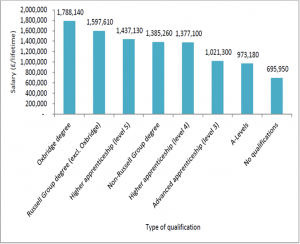 Lifetime earnings, net of repayments – before the recent Student Loan interest rate rise.
From The Sutton Trust – Levels of Success
Advanced and higher apprenticeships make more economic sense than degrees for most pupils, parents and employers
A growing number of employers are discovering that well structured blended learning programmes (mixing supervised, experiential on-the-job learning with off-the-job contextual/academic modules) can turn raw talent into revenue earning consultants inside months, not years. In areas of global shortage, like cyber forensics or secure web-site design that is switching attention from competing for supposedly experienced staff or importing skills from overseas towards trawling for raw talent to be harnessed and developed from assistant, to technician to professional, over time.
This approach is not new to the older professions. like law and accounting. There prohibitive cost of housing for graduate trainees means that global players are re-opening school-leaver recruitment for those already live in locally, alongside their traditional "Oxbridge and Russell Group 2.1 and above only", graduate recruitment programmes. In one bank a former East-End teenage apprentice now manages graduate trainees a couple of years older than her. She is on the high flier programme. Those who joined five years older than her will probably never catch up.
It need not be an either or choice
Apprenticeship or Degree is not, however, an either/or choice. Russell Group Universities are among those working with major engineering employers to organize degree linked apprenticeship programmes. Some employers (e.g. the RN and the RAF) have long had processes for their "apprentices" to do "modified" degree courses at Cambridge – perhaps the best known was Frank Whittle, exempted from both the first year of the tripos and the regulations for undergraduates).
But there are many more schemes planned or offered than are operational. Many, perhaps most, have no employers on board. Meanwhile most employers are confused and/or lack the in-house skills to supervise, monitor and mentor trainees, let alone design their own apprenticeship programmes. And the professional bodies, sector skills councils or trade associations who might have helped them have been "discarded" as "intermediaries". Hence the need for digital/high tech employers, royal societies, livery companies, professional bodies, trade associations and education/training providers (including, but not just, the IET) to once again work together to simplify and streamline both guidance and consultation processes with Government and the Universities as well as with schools.
Addressing the practical problems: 1) co-operate in creating shared skill incubators
But there are some very real practical problems in restarting the apprenticeship approach to skills. One is the cost and practicality of organizing well-structured practical work experience accompanied by the realistic assessment of competence, not just knowledge. The Plymouth Cybersecurity Skills pilot, which I have described before, has demonstrated the value of a shared skills incubator to provide supervised and structured work experience in a specialist area where few local employers have the necessary inhouse skills. We now know that the shared incubator approach is not as unusual as we had thought. Plymouth adapted an approach to co-operation used locally for construction industry skills (another area of critical national shortage where £30 million was announced in the recent budget). When I visited Portsmouth to discuss a similar partnership, I discovered they already had a least two FE-linked facilities already capable of functioning as shared advanced manufacturing skills incubators.
The Plymouth Pilot has the support of BCS, CISCO, Comptia, IAAC, IET, ISACA, ISC2 and others, as well as the Local Authority, the Local Universities and the FE and Schools networks. The national and international partners are using it to pilot processes for co-operation with each other as well as with local partners. Players from Central Government are beginning to visit. Some of those visits are leading to practical results – for example an agreement to help pilot a key part of the NCA "Prevent" strategy (remotivating and harnessing potential hackers), before the national roll out next year
Addressing the practical problems: 2) co-operate in creating shared information hubs
Meanwhile the plans for a pilot cybersecurity careers portal with schools and college access over one or more of the National Education Network members using the Inspired Careers cybersecurity have expanded. The proposal is now for the members of the NEN to collectively host a generic careers and materials "hub" with well-posted links to all reputable sources – including those covering all types of STEM, Digital, Fintech and Multi-Media – plus any other industry that cares to use them.
Meetings to plan this and to recruit support are scheduled for the 15th and 16th of January hosted by the IT Livery Company. The members of the NEN procure and support secure connections to about half the schools in England. They are low overhead co-operatives, most owned by Local Authority consortia, with charitable status. They are linked via JANET and commonly use infrastructure provided by BT, Easynet, Virgin and others. Several are now in discussion with City Fibre, Gigaclear, Hyperoptic as well as with their existing providers, local authorities and others about using the Local Full Fibre Network aggregation programme to use schools as anchor tenants for gigabit services, They are not, however, marketing organisations. Those wishing teachers, pupils and parents to access and use the materials on offer will need to help fund and drive awareness and promotions. The "hub" should, however greatly ease the task of the 20 new careers hubs and in-school career advisors announced to help do this on 4th December by DfE Minister Anne Milton . The intention is that the lead participants will be able to demonstrate their involvement at BETT (24 – 27th January), perhaps with a pilot services already operational. That will enable lead employers to start using the service almost immediately and for it to be fully operational before the first of the new geographic hubs.
The time for reports is over. It is time for action, not words
In short, the question is not "Who speaks for digital employers on the skills of the future" because the answer is, as it has almost always been, no-one. The question is more: "What are you doing to help yourselves?" That means exploiting what is already on offer from your professional body, trade association, interest group, Chamber of Commerce or LEP.
If you or they wish to join the Digital Policy Alliance and help drive or exploit any of the programmes co-hosted by the 21CN Skills Group, I would be delighted – because my last main role as an advisor is to help recruit a team of those at least thirty (preferably forty) years younger than me – to turn words into action … at long last.