The nails are inserted into the coffin of the BT Openreach Monopoly
Joe Garner, the latest CEO of Openreach, put up a competent defence when interviewed on the Today programme this morning in a follow up to the listeners' complaints covered on Saturday. His answers, nonetheless, indicate that it is probably only a matter of time before alternative suppliers, from Gigaclear to City Fibre replace BT as "infrastructure supplier" of choice for communities where there is a critical mass of business users who need (and will pay for) fast, reliable, world-class connectivity. If so, we can also expect current quad-play models to be amended with "infrastructure suppliers" offering menus of content providers – akin to the choice of search engine or browser on your PC. The way Ofcom uses its powers to ensure effective and informed consumer choice will, however, be critical. Hence the importance of its Strategic Review and the need for a wide and balanced range of inputs – not just "the usual suspects". .
Garner's comment that services to the final 1%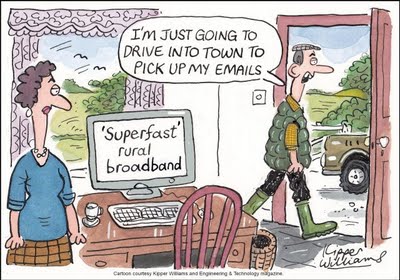 can never be economic, because some do not even have a power supply, led to questions by Justin Webb about the connectivity on offer to Birmingham, Bristol and South London: on which Bob Neill MP for Bromley and Chislehurst (and chair of the new all-party group for London) has requested a meeting with Ed Vaizey . Meanwhile one of the Conservative Candidates for mayor, Syed Kamall MEP already has London's mobile and wifi not-spots on his agenda.
I have been catching up on e-mails since returning from a break in our family croft, with line of sight to a mobile mast on the other side of Loch Scridain but no mains power supply (we use solar panels and a generator for lighting, power tools and charging the batteries of laptops and smart phones). Until a few years ago I could access e-mails (albeit slowly and with frequent restarts). Now, thanks to modern bloatware, even my smart phone cannot download more than the headings – on those days when we can get a data signal at all. Meanwhile in the local wifi hot spots it is common for my mobile to indicate "emergency phone calls only" and the pub wifi is, at best, too slow for a Windows 8 laptop. The area is outside BT's upgrade plans and I have registered with Gigaplus Argyll.The situation was little better across most of Dumfries and Galloway, where we took a break on the way home, although my son (who had joined us for a couple of days) was finally able to complete his Fantasy Football entry over a wifi connection in Kirkcudbright. This time webdid not even try to use our mobiles on M6.
Things are, however, beginning to change in a number of directions – particularly with regard to availability of those competent to install and maintain modern networks. Joe Garner said in the Today Programme that BT Openreach has been expanding staff training in order to reduce reliance on sub-contractors (implying that competition for the latter had become a problem). Meanwhile HyperOptic switched to training their own installation and maintenance staff because of quality, as well as availability, problems with sub-contractors. This has had the added benefit of a sharp improvement in relations with property owners and managers and in the willingness of the latter to not only enter into access and wayleave agreements but to take the initiative in opening discussions on the provision of fibre, whether to high-value tenants who want world-class access or to "social" tenants who need reliable, low cost support. There is a message here for those who expect government legislation to help solve their problems with access to buildings and/or rooftops in order to address urban not-spots.
"World class" raises the question of IPV6. The lobbyists for the main networks still claim there is no demand and Ofcom has said it is not necessary while promoting technologies for which it is essential. Meanwhile players like IFB have to meet the needs of their Oil and Gas customers in Aberdeen who are standardising globally. There are signs that a similar situation is about to happen in London, with innovative Fintech companies, moving direct to IPV6 in order to met the needs of emerging markets, putting those with legacy applications to convert at a significant disadvantage. Until this month, the bulk of UK IPV6 traffic was over JANET and volumes reflected the academic terms. That changed with the launch of the Sky pilot. Traffic is already double that of any previous month this year and mounting. So what is in it for Sky customers? At the basic level, they get up to 40% faster response from those applications, like Facebook which have already converted.
In short the digital divides in the UK have been deepening over the past year, leading to ever more anger on the part of those left out of current programmes. Those divides may, however, be about to change with those deploying lower cost, higher reliability fibre networks also transitioning their customers to IPV6 as part of the connection process. If it is correct that the INCA members presenting in Bristol later this month could provide fibre to 17 million UK customers, provided they are given a level playing field (and thus access to commercial finance), then those stuck with Openreach could end up on the wrong side of the divides.
I doubt that will happen because the shareholder pressure to break up BT and halt the cross subsidy of the Premier League would be irresistible. But "we live in interesting times" and the impending mix of consultations and select committee investigations will give plenty of opportunities for muckraking and mudslinging. Meanwhile also we need to quietly expedite the incremental UK transition to IPV6, lest we face a very expensive hiccup around the end of this parliament. It helps that almost all the equipment installed since the last election is compliant. The problem is the address lengths in the application software – a bit like the date lengths that caused the Y2K non-problem. The solution is the much same – a boring but essential audit job to ensure that no users experience problems. The difference is that this can be taken over time, provided the main ISPs have converted. The good news is that sharp rise in IPV6 traffic over Sky after it took a lead may well concentrate the minds of others. The bad news is that some parts of the UK, like the City of London, may well have less time than we think.
The immediate headline question is, however, "How many of the councils in receipt of the BDUK state aid clawback (130 mill ion and rising) will use that to go out to open tender for proposals to meet the needs of the final 5%?".

If BDUK learns from past experience and BT is forced to compete openly for the resultant business, we are likely to see a variety of different funding models emerge, including local partnerships involving BT and its main competitors where they need to co-operate in order the provide the performance and resilience needed. At this point the requirements of some regulators for critical systems to be backed up over networks that may well (and should) inter-operate but are not critically interdependent, should be used help preserve competition.