Agile is not enough, neither is "systems integration" - we need a new approach to Digital Government
John Alexander and I have been exchanging e-mails over my analysis of the tensions between Cabinet Office and the "Silos of State" over the way forward for the delivery of public services, including how much of the problem is technology and how much is using arguments over technology are proxies for disputes over power. Instead of accepting comments from him to some of the relevant blog entries I have asked John to summarise his argument in a guest blog:
=================================
The Universal Credit programme is a microcosm of the situation in Digital Government in the UK today, in that there is an unresolved dispute as to which of two, very different, approaches should be deployed. These approaches are agile development, advocated by the Government Digital Service and systems integration, advocated by the oligopoly of global suppliers. To make matters worse neither of these approaches delivers a solution that maximises the potential of the Web.
However, there is a third approach that does maximise the potential of Web.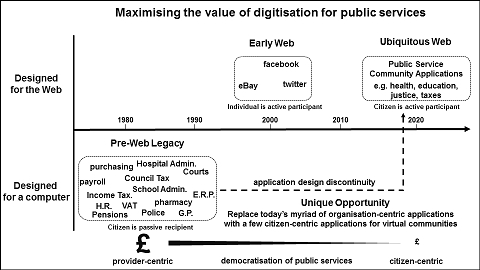 The current situation and rationale for change are as follows. Today, the UK Government is heavily dependent on application software, the value-adding component of digitisation, for the day to day running of public services, as shown in the bottom-left of the figure below. These applications are now old, expensive to support and hard to extract further value from, witness Connecting for Health and Universal Credit.

If we look at it from the citizen's perspective then we are passive recipients. These applications were designed before the Web, and although there are examples of self-service being bolted on to some of these systems, e.g. tax self-assessment and booking healthcare appointments, they were designed for the supplying organisations, e.g. HMRC or a hospital, rather than the citizen.

Compare this with eBay and facebook. Their applications have been designed around the individual as an active participant within a virtual community, trading and social networking respectively.

With ubiquitous Web access it is now time to create virtual community applications for public services based around the citizen, e.g. replace the myriad of General Practice, pharmacy and hospital applications with a healthcare application designed around the patient. This democratises public services, makes them more effective for service providers and reduces IT costs by over 90%.
Neither of the current approaches to Digital Government bridges the fundamental design discontinuity illustrated above. As a result, today's approaches can never be as effective, efficient or democratic as the new design.

It is essential to start again with new application software to release and enhance the massive value currently trapped in the legacy applications.

Unfortunately, the participants in the agile development versus systems integration battle are too caught up in the fray to look for alternatives.

Let's celebrate the 25th anniversary of the Web by using it more effectively to deliver more efficient and more democratic public services.
=================================
I am happy to accept comments which I will forward to him if they are not in the form of open postings.