A land fit for hermits: why broadband speeds could become an election issue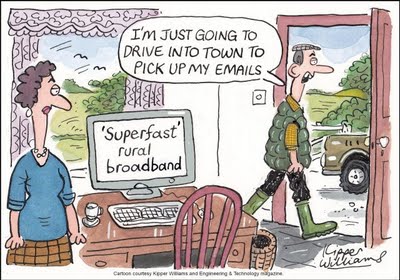 Last week at the launch of the Tomorrow's City Forum a high tech investor told me of his experience of superfast broadband in remote rural Surrey: "When the football comes on, the broadband goes off". Barely 20 miles from Cambridge a former Labour Parliamentary Candidate struggles to run a high tech business using on a line that is barely 500k up and 250k down for most of the time.
No wonder the anger is building up.
This afternoon the Digital Policy Alliance and the All Party Space Committee will be discussing some of the alterantive ways forward. In the mean time I will quote from Patrick Cosgrove's latest Shropshire broadband newsletter – written after last weeks INCA meeting:
"A land fit for hermits (subtitle: why broadband speeds could become an election issue)
We've heard that Right Move is now quoting the broadband speeds of properties up for sale. You can be sure that all other estate agents will follow and prospective buyers will take far more notice of that than they will of energy ratings. Think of the wind turbine campaigns multiplied by a thousand. "No to Slow!". "We Demand Megabits!" You get the picture.
So we've come up with a list of the groups of people in rural areas with poor broadband that we think might take broadband into account when they vote.
Do let us know who we've missed out.
1. Anyone with poor broadband who is planning to sell their house.
2. Estate agents, because people aren't buying properties with poor broadband.
3. Any small business or self-employed person who has to upload large files: software designers, on-line language tutors, technical authors, illustrators, photographers etc
4. Owners of B&Bs and holiday lets because enquirers always ask about your internet connection, and if it's slow they say, "It's only tentative. We may get back
to you".
5. Farmers and other landowners because they can't get their returns back to DEFRA without a trip to use the nearest library's computers (see the cartoon attached to this email).
6. Parents of school-age children because their kids won't be able to do the on-line homework that's required.
7. Teachers, because they want their pupils to be able to use the internet for homework.
8. Headteachers because parents won't move to areas with poor broadband, therefore the schools will close.
9. Film buffs because hardly anyone sends for DVDs anymore, but streaming doesn't work with the copper wires clogged up by people watching BT Sport.
10. Sports fanatics because BT's now got all the big footie games, only the little wheel keeps going round because the people down the road are trying to stream a movie.
11. Teenagers because the little wheel keeps going round on Youtube, and all the adults are trying to watch football or stream movies (correction – if teenagers did vote, most don't any more after Russell Brand's crazy advice).
12. Computer gamers, because if the answer to universal superfast broadband turns out to be via satellite, the games won't work because of the time lag , and anyway, everyone else is trying to watch footie or stream movies (Sony's Playstation 4's launch in North America has just sold sold 1m units in 24 hours. It goes on sale in the UK on 29th November and rival Microsoft's Xbox 360 is available from 22nd, just in time to use up all the bandwidth for Christmas).
13. Baby boomers who have children abroad and want to reliably Skype their grandchildren "Hello. Are you there (repeated three times)? It's a bad connection (shouted). Can you see us? We can't see you. We'll try again in a couple of hours. Oh, they'll be asleep then. So what time shall ……… >>>>>>. Oh */?*!"
And that leaves: Ummm…. Hermits?