Women in Technology: More role models needed
This is a guest blog from Hazel Moore Chairman of FirstCapital and Finalist for the 'Inspiration of the Year' category for the 2012 everywoman in technology awards.
According to a recent report by Thomson Reuters the global technology industry lags behind all other industries in the proportion of

women employed at managerial level, with only 15% female managers in 2010.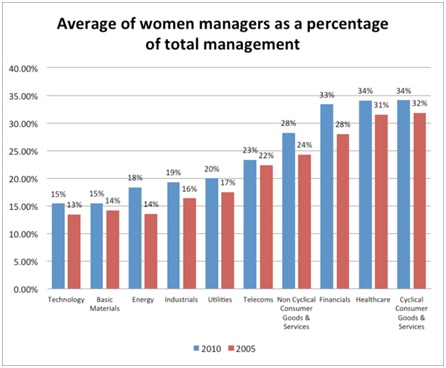 Source: Thompson Reuters
Furthermore the tech industry was the least able to provide accurate data relating to women in the workforce and at managerial level, suggesting that this information is not systematically collected. As the old adage goes, if you don't measure it you can't manage it, and one conclusion that could be drawn from this lack of data is that technology companies are not serious about addressing the lack of female leadership within their organisations.
The issues behind the low levels of female leadership in tech businesses are complex, and include all the usual problems of childcare and glass ceilings, as well as additional barriers such as the "geeky" impression of technology which deters many women from the industry in the first place. There are no simple answers but I am a strong believer in the power of role models to inspire and motivate young people to make different career decisions or to aim for higher goals.
Former president and CEO of Hewlett-Packard, Carly Fiorina, once said in an interview, "it's clear that there aren't enough women in business, and the stereotypes will exist as long as there aren't enough of us." If tech companies are not attracting and promoting women into senior positions, then there are fewer role models for others to aspire to, and valuable female talent will continue to favour other sectors.
In my job I work with CEOs and founders of high growth, mostly privately owned tech businesses. They are overwhelmingly male. Furthermore their backers are overwhelmingly male. I regularly attend conferences where there vast majority of panels contain no women, and there are no female keynote speakers. I am the only woman in most of the board meetings I attend. For many women, especially in the early stages of their career, this is a challenging environment to work in, and it can be intimidating and off-putting.
A brief survey of our firm's database of over 1000 companies and of a selection of the leading most active private equity and venture capital investors in Europe, showed:
· Only 5% of the growth technology companies have a female CEO or founder
· Only 4% of the total number of board members (executive and non executive) of a typical private equity or venture capital portfolio company are female
· Only 6% of the partners at the investment funds that back growth tech companies are female
When asked, many of the investors had no idea how many women CEOs, founders or board members they had in their portfolios. Perhaps this is a positive indicator that gender is not something that they actively remark upon. I suspect, however, that it is more a case of female talent struggling to break through. Concrete action needs to be taken, and the level of visibility of women in the industry needs to be drastically raised. Quotas are not the answer for small companies, but if it takes 70 years to redress the board gender imbalance organically then that is too long.
Attracting and retaining the best talent, male or female, is critical for long-term success and competitive edge and the implications are that the tech sector is losing out to other industries. Imagine how much more successful many of these technology companies could be if the very best female, as well as male, talent was playing an active role in shaping the industry!
Women and girls at all levels need to be engaged by technology and they need career choices and opportunities which attract and inspire them. They need to see what is possible and be helped to achieve their full potential, not to be distracted by obstacles. The everywoman in Technology Awards are a great way of celebrating the achievements of women, helping to promote role models who will be an inspiration for others.