Why it's important to network with other women in your field
I recently met with Sarah Shields, executive director and UK/I general manager of Dell, who filled me in on the work surrounding the Dell Women's Entrepreneur Network (DWEN) and the importance of networking.
Luckily Sarah has a wealth of knowledge on the subject of women in IT, and was open to talking, as I was suffering from a bad mouth ulcer (I'm finally on the mend – thank you for the Ambersol tip Sarah).
Fully qualified to talk on the topic, Sarah runs Dell UK and Ireland with two other ladies who are responsible for over 4,000 staff. Dell has a Women Powering Business initiative which aims to help women entrepreneurs and technologists expand their networks.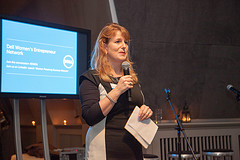 Back in January over 40 ladies attended Dell's first UK DWEN event of 2013, which took place at Shakespeare's Globe in London.
The evening was hosted by Sarah (pictured) and included a panel with Julia Grinham (Upper Street), Kelly Dolan (Entrepreneur Country), Belinda Parmer (Lady Geek) and Kelly McGinnis, global vice president, public relations and communications at Dell.
The ladies used the evening to discuss the importance of networking; something which DWEN can be very useful for.
DWEN will be holding its annual event this year in Istanbul, Turkey from June 2-4, which looks like its set to be a jam packed event over just three days.
Sarah said at these types of networking events, you never know who you are going to meet. She explained how useful it can be to share a coffee during a break session with someone who you may think is just another attendee, but turns out to be someone in charge of a huge company that could be a valuable contact for you.
The DWEN network can be found on Twitter and LinkedIN.