Who said women aren't good at IT?
A guest blog by Sheila Flavell, COO of FDM Group, and winner of Cisco 2012 everywoman in Technology Awards Leader of the Year.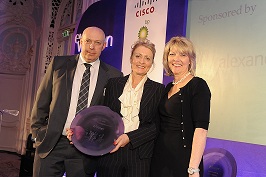 If someone was to ask you 'who are the most influential people in technology,' who would spring to mind? Steve Jobs? Bill Gates? Eric Schmidt perhaps? There is no doubting that they have all contributed hugely to the technology industry, exceeding expectations and creating platforms that were deemed impossible. They are inventors, developers, entrepreneurs and… male.
I'm sure many people would be shocked to know that the first ever computer programmer was female. Ada Lovelace, known for her work on Charles Babbage's early mechanical general-purpose computer, recognised the first algorithm processed by a machine, the very algorithms Google uses today. This breakthrough has made her one of the most inspirational females in technology and yet her name has strayed in favour of those more recent.
Another influential woman in IT is Grace Hopper. She is best known for coining the term "computer bug" and her work behind software coding, in fact her findings still dictate application development today. Hopper conceptualised structured language, which led to the development of COBOL and led the way to other such programmes. The chances are that if you have written a line of code then you owe a debt to Hopper.
Know your history
I believe that to be truly successful in any business, one must know the ins and outs of its operations including an understanding of the history on which the industry is built. Women like Lovelace and Hopper are the technology industry's history; their discoveries lay the foundations for computers and applications as we see them today. Moreover, they pushed boundaries for females, as said by Iain Thomson of V3, the UK technology news website, "[Ada Lovelace] was the world's first computer programmer, which is remarkable in itself, but even more so considering she was a woman in a time when most of her sex were considered only useful for producing children, preferably male ones."
Both of these extraordinary women grew up in a time when men still dominated the workforce. Fast-forward to 2012 and women now accommodate 47 percent of the UK workforce, but men hold a staggering 82 percent majority within the IT industry, according to a recent report by e-skills. These statistics in addition to Lovelace and Hopper, amongst other 21st Century female role models within the technology industry have inspired me to encourage and support more women to launch careers in IT. They have been instrumental to the progression of IT, which is why we launched our worldwide Women in IT campaign last year on Ada Lovelace Day.
This ongoing campaign is our way of actively encouraging and supporting more women to pursue a career in IT, and we are proud to be leading by example with a female majority across our management team. With only 18 percent of the IT industry occupied by women, it is our vision to tackle the stereotypical 'geeky' persona to promote the diverse roles available within IT.
I wouldn't say that my previous experiences naturally led me into the IT industry rather it has been a career I fell into, and I have been lucky enough to enjoy a 20 year career within the sector, and I would like to share that experience with women considering IT. After all, if we don't look after each other, then who will? I say, go for IT ladies!