Where to find inspiration: Nikki Walker from Cisco Europe guest blogs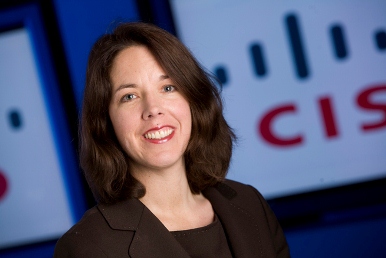 Nikki Walker, diversity & sustainability director at Cisco Europe guest blogs for WITsend. Nikki joined Cisco in 2009 and won the inspiration of the year award at the 2011 CWT everywoman in technology awards.
I have a favourite quote that I re-read every time I'm feeling a little lacklustre and needing inspiration. It's by Eleanor Roosevelt, and says: "The purpose of life is to live it, to taste experience to the utmost, to reach out eagerly and without fear for newer and richer experience."
It's such a positive and empowering statement that you can't help but feel that anything is possible if you put your mind to it. Inspiration really does come in so many different forms and through different people.
A friend of mine changed careers recently and told me an amazing story about one of her university classmates. Pam was originally from Zimbabwe and came to work in England with her husband and new-born baby, leaving behind their two older children with her parents who would be sent for once they had settled into a house.
In an incredibly cruel twist of fate her husband was killed in a car accident, just months after they arrived. Pam was supported by a social worker, who inspired her to go to university and study social work. She felt it was her way of putting back what was given to her. But the inspiration doesn't stop there.
As Pam was a foreign student she had to pay extremely high fees, as well as obviously having to pay for herself and her baby to live. Pam was determined though and took on three part-time jobs to make sure that she could reach her end goal. Every time someone in the class felt a little worn down by the course, they just looked at Pam – always on time for class and always taking part, while juggling university with work and single parenting. Here was someone who inspired everyone around her to do the best that they could. After all Pam was doing it against all odds so why couldn't they?
For me, Pam is someone who was choosing to live exactly the way that was described in my favourite quote. We all need inspiration to drive us through life and we all know someone who has inspired us to think differently or be a better person.
I've talked about some of the things that inspire me but I would love to hear from you if you have an inspirational story or titbit that you would like to share with me. It could be something you've read or heard recently that has made you stop and think differently or a 'eureka' moment where you've suddenly had an epiphany at work after years of doing things a certain way.