What Do Women Want From Tech Advertisers?
What do women want from tech advertisers?
We complain about pink gadgets, lame marketing campaigns, and being patronized. Don't talk down to us, we say, don't just dumb down your products, color it fuscia, and say it's for girls.
We complain when they try, we complain when they don't try.
Whether it's
Della
or
Playboy Bunny mobile phone accessories
, advertisers just can't seem to get it right.
The obvious reason for this, is that women are incredibly diverse beings, and that we refuse to be pigeonholed or generalized, patrionized or any of the other bad things that end in "ed".
However, this new generation of web savvy, Geek-proud
Techettes
is incredibly sensitive to how things, especially things that were traditionally "for the boys" are marketed to us. You don't hear men going, "God! I can't believe this advert! They don't get men at all."
Why this is, I'm not sure. Maybe in advertising and marketing, men are just easier specimens to please. (And maybe just in general?)
So – how do we want them to approach us? Do we want brands to continue to produce gadgets in pink? When is pink OK? When is brands wanting to do a campaign aimed at women OK? Or do we want something gender neutral, and for those big bad advertisers to just treat us like everybody else?
I'd be quick to say that I would like to be treated like "everybody else" – but then again, "everybody else" seems to be a 35-year-old single man with an liking for models nonchalantly holding gadgets at their side as if it's a piece of fruit they forget they were eating. And that doesn't really work for us, does it?
As far as I'm concerned, it doesn't do any harm if companies want to produce a pink gadget, in addition to other colors. If black, and baby pink are the only options – I get annoyed. But if I can choose from yellow, neon green, bright blue and candy apple red – I'm a happy camper. I love colorful gadgets, and I'm pleased that tech companies are on to that.
And, despite their Della F-Up, I'm loving their new advertisting campaign they have for
Mini Netbooks
.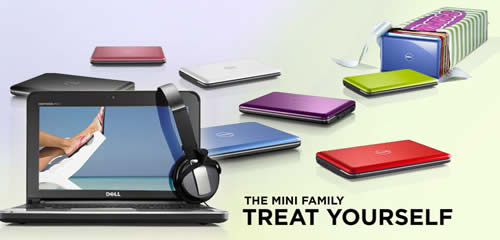 It's colorful, clean, and is pretty gender neutral without insulting women.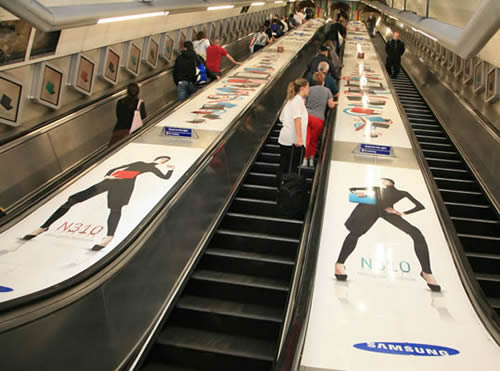 I'm less pleased with Samsung's adverts than Dell's as they push the bloody "oOoOOo FASHION!" concept a little too much by having models in high fashion-esque black body suits, striking poses with the colorful N310s as if they were in the pages of Vogue instead of a sweat and Swine infested train station, hundreds of feet underground.
Despite their obvious "we need to reach the female consumer" efforts by attempting to give the N310 a bit of catwalk-worthy edge, it still isn't horrible. It still isn't disgusting and pink and Hello Kitty-tastic.
And speaking of Hello Kitty and pink, despite those of us in tech – there seem to be a large amount of women out there who love pink gadgetry. They love Hello Kitty. And they love it when phone companies want to sell them a
phone AND Benefit cosmetics at the same time
!
Are those of us who want things a bit more balanced and neutral (albeit perhaps a bit more colorful) in the minority? Are we fighting a losing cause?
Perhaps tech companies and advertisers will never get it right. Maybe it's too hard to advertise to women when we are so diverse, and so polarized in what we want.
But, in my opinion, it shouldn't stop them from trying.