Townley Grammar's California girls: Trip to Silicon Valley Day 1
This is a guest blog from Desmond Deehan, head teacher at Townley Grammar School for girls in Kent. Each year the school takes its GCSE and A Level computer science students to Silicon Valley to visit San Francisco, LA, the Computer History Museum and Stanford University and businesses such as Microsoft, Google, Facebook, Intel and NetApp to name a few.
Deehan and his students will be blogging about their visit which is taking place this week.
Day 1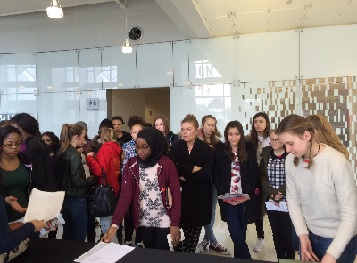 – Thirty four teenage girls and four, slightly on edge, teachers boarded a Virgin Atlantic Flight to San Francisco on the first stage of our groundbreaking computing trip. This is the fourth year of the Townley Computing trip to California in which we visit the tech companies of Silicon Valley, the High Schools and their computing departments and find time for a few cultural experiences.
– The girls, all Computing and IT students, went through a rigorous digital application process to be selected from the 80 hopefuls who were eager to go. These "girl geeks" will get an opportunity not open to any other UK student or indeed most adults. They will enter Google HQ and Facebook, talk to computer engineers and executives within the industry and take part in workshops run by the people at the heart of this industry. It will provide a perspective that we hope will inspire the next generation of female computing engineers and imagineers. Indeed accompanying them are two of our A level students who intend to do just that.
– So where do we begin? Well the Computer History Museum in Mountain View seems a good start. Under one roof it contains the entire story from Babbage to the present day and its volunteers include the early pioneers of the valley. Then we are off to San Francisco for a city tour to get an initial feel for this fascinating US city on the doorstep of the technology revolution.
– But first, to get 34 teenage girls up and ready!

More blog posts to follow detailing what the girls of Townley Grammar school are learning this week during their trip to Silicon Valley.