The BCSWomen Lovelace Colloquium: A student perspective Polina Stoyanova
This year's BCSWomen Lovelace Colloquium was at The University of Reading. Students came to the event from across the country. Three of the student poster contest finalists give their perspectives over the next three blog posts.
This is a guest blog from Polina Stoyanova, a student from the University of Greenwich, currently doing an industrial placement in London.
I heard about BCSWomen Lovelace colloquium from a lecturer. A month before the event I had to write an essay in regards to Women in Computer Science and how are they represented and supported across universities.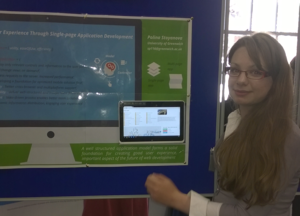 As part of my research I discovered that not many offer support for female students in the field and they are in no particular way encouraged to choose it as an area of study or career. That motivated me even more to take part in the event and meet other women with shared interests and yet specialising in various subjects.
The Lovelace colloquium was one of the many conference events I have attended through the past years, and yet it proved to be one of the best. It was very well organised and in a day various activities were covered, including the poster competition as a main focus, valuable and relevant talks from successful women in technology about current research, trends and the importance of female presence in the field.
Above all, in my experience, Lovelace was the event with most friendly and lively atmosphere, where you feel accepted, supported and realise that you have a lot of potential to grow in a Computer Science related career.
Amongst the presented posters there was a big variety of topics covered, showcasing creativity and passion for the subject. My poster, "Better User Experience Through Single-page Application Development", was based on research I started doing as a preparation for my final year project next year.
The topic was also inspired by the products I work on as a software developer during my industrial placement and the growing interest in UX, web and mobile technologies. I had decided to demonstrate an example single-page web application supporting the points I have covered in the poster, adding an interactive element to the presentation and allowing for better understanding of the topic.
All participants had the opportunity to walk around the poster area and view the work of others. This was a chance to see how different topics are approached and how diverse and creative the field of Computer Science is. Learning about what other women are involved in during their studies is not only inspiring and motivating but also shows how capable and skilled female students are.
After the poster contest, the award announcements took place, full of excitement and complemented by fluffy Androids. This was followed by the Q&A panel, which provided opportunity for everyone to get advice on important questions from the experienced members.
At the end of the colloquium, there was an evening networking social, where we could speak to everyone who took part to discuss common interests, job prospects, and to get feedback and advice on projects.
I would love to take part in the event again next year and would definitely recommend it to students who want to meet like-minded people, spend an interesting day exchanging ideas and gain invaluable experience preparing and presenting their research and proving their talent, encouraged by the example of Ada Lovelace and sharing similar passion for technology, programming and scientific analysis.
Overall, the day at the event was time well spent – great fun and an inspiring adventure full of awesomeness!