The BCSWomen Lovelace Colloquium: A student perspective Michelle Brown
This year's BCSWomen Lovelace Colloquium was at The University of Reading. Students came to the event from across the country. Three of the student poster contest finalists give their perspectives over the next three blog posts.
This is a guest blog from Michelle Brown, a third year student from De Montfort University.
The BSCWomen Lovelace Colloquium 2014 first came to my attention when my Final Year Project supervisor suggested it to me, through an email sent originally to her. At first I was unsure of applying as it requested a 250-word abstract, and didn't feel that my project work was worthy of the competition after seeing titles of previous winners' posters.
However, I felt that it would be a great chance to meet other women in the technology field (as I have been one of the only females in my class for a while now), and also be an insightful experience to listen to those women who are already in technology careers, so I decided to enter – what did I have to lose?
My abstract was entitled "Sexualisation, Objectification, and an Invisible Audience: Female Portrayal in the Video Game Community", which took one aspect of my Final Year Project and told of a study I have taken into the representation of women within video games.
My poster complemented this, as – along with three A4 mini posters – it explained how the majority of the video game community prefer to play as, and view, women with believable clothing, an interesting personality, and a heroic aura. This led on to ask questions such as: is it the community or the industry who are asking for these misrepresented female characters, and what kind of effects does this have on female players?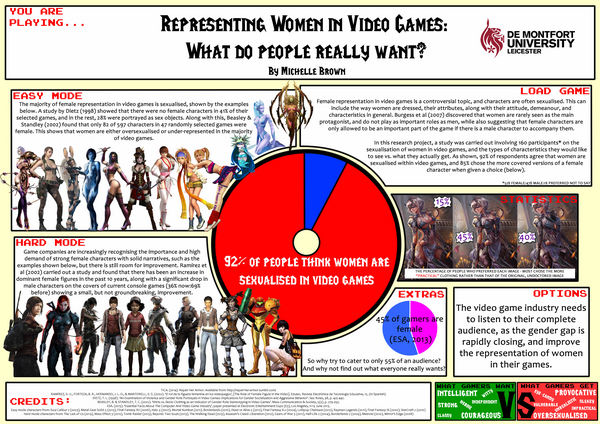 On the day, I found myself feeling extremely welcome and instantly accepted within the event. My poster gained a huge amount of attention, with debates being sparked by every person who came to my stand. Some people even took pictures of it to show their friends! Along with this, I feel I've gained a great deal of confidence surrounding my Final Year Project and can speak about it freely without prompts.
The talks have given me the inspiration to go for any job that I want without hesitation – as the idea of being a woman in technology can be scary at first – and do so safe in the knowledge that there are other women who have made a mark in this male-dominated industry. It was also incredibly useful to speak to the companies with stands there, as this further enforced the need for female employees and gave us an idea as to what positions were available.
The event was a great success, and regardless of not winning a prize for my poster, the day itself was more than enough for me – I even managed to bag some freebies, including pens, folders, keyrings, badges, and my favourite, a wind-up Android! I would thoroughly recommend this event to all women in technology courses, and I wish I'd known about it sooner rather than in my final year of University!