Q&A with Reshma Sandeep Das from Orange Labs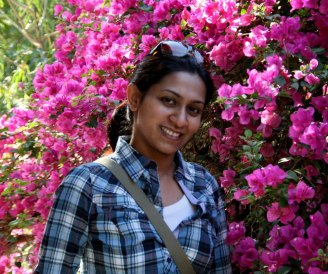 Reshma Sandeep Das is a senior software engineer at Orange Labs
How did you get to where you are now?
After my engineering degree in computer science and electronics, I was fortunate to find a job as a software developer for a telecommunications start-up. Working in a start-up environment was an exciting and challenging experience which laid strong foundations for a career in mobile communications.
Working on the latest technologies in some of the best companies like Motorola, Intel Mobile Communications, Samsung and now Orange has inspired me to think creatively to come up with innovative solutions.
At Orange, I am part of a diverse team of over 70 researchers representing 20 different nationalities at Orange Labs in Chiswick who are working at forefront of technology and R&D.
We work in collaboration with the wider Orange group and network of Orange R&D labs internationally to develop new and innovative ideas that benefit our customers around the world.
Why did you decide to opt for a career in IT?
During my early years, I was interested in maths and basic sciences, and embarking on further studies in engineering, computer science and electronics was the obvious choice. I have always enjoyed working and solving problems on latest technologies and contributing to innovations.
In my previous jobs, I have been involved in various standardisation groups for IP Multimedia Subsystems. At Orange Labs, I have the opportunity to work on different mobile platforms and technologies to develop solutions that enhance the end user experience for Orange customers.
I very much enjoy seeing my work adopted as part of new technologies that are improving the lives of our customers.
What is biggest challenge for professionals working in the IT industry at the moment?
We are in the midst of a technological revolution in the form of an ecosystem revolving around smartphones, mobility, cloud capabilities etc. This disruptive technology is constantly changing and trying to keep up with this is one of the biggest challenges for professionals.
On the same note, this disruptive technology is creating new opportunities, new trends, new markets for IT professionals which makes this challenge more exciting and rewarding.
When you're not at work, what are you doing?
Outside work, I like to spend time with family, watching movies, hanging out with friends, travelling to new places, nature hiking, and indulging in extreme sports like sky diving, bungee jumping, paragliding, white water rafting.
I am an avid animal lover; I have been involved in animal charity groups like RSPCA. Recently I have been training in Tai-Chi which I find relaxing and enjoyable.
What was the first computer you owned?
Access to my first computer was at my school computer lab. It was a powerful (for the time) x286 with 128kb RAM, 40 MB hard disk and 5.25″ floppy disk drive running on good old MS-DOS. I predominantly used it for programming in BASIC and playing classic games like Pac-Man.
What gadget could you not live without?
I can't live without my smartphone.
Phones have evolved from a simple messaging and email devices to multifunctional smartphones capable of audio/video streaming, high-speed surfing, taking pictures that rival point-and-shoots, location-based services using GPS and of course still capable of making calls.
Working for a mobile operator and looking at today's trends I would like to see more flexible smartphone designs. For example, smartphones that are lighter and thinner with a dual screen foldable design.
It would be nice to see wearable phones, augmented reality to become a standard everyday feature, integrated artificial intelligence in smartphones, and have more memory and computing capabilities, thus enabling a richer user experience. I would also like to see NFC integrated in all smartphones.
What is the best technological innovation to date?
While the internet has been the best technological innovation over the last several decades, the smartphone revolution, high speed data connectivity on the go, and cloud-based services has created an ecosystem which is dramatically changing the way we live. This ecosystem is the best technological innovation recently.
We are only at the beginning of the development of this ecosystem which is continuously evolving by adding new technologies like NFC and secured cloud based services.
However there is a potential for a lot more than this. This ecosystem is not only about smartphones but can be extended to tablets, televisions, automobiles, gaming platforms and all the other places where people expect to have a fully connected digital experience. In short, the user should have access to all his information everywhere.
What does your Facebook status say right now? What was your last Tweet?
My last Facebook post was "Carrot, apple and ginger juice @222 Veggie Vegan…one of the best vegan places in London".
My last tweet "After changing the music and phones industry, now its TV time for #Apple with #iTV"
Even though we have already seen the important role of social networks like Facebook and Twitter in the revolutions in Africa and Middle East, I personally feel we haven't still seen their full potential. Facebook, Twitter and other social networks are increasingly be used as an excellent marketing tool that gives a great chance for businesses to interact with their customers and followers.