Learning business in an IT World
This is a guest blog from Nikki Briant, Insurance Analyst at Cognizant, who reflects on her experience over the last six months as a graduate entrant.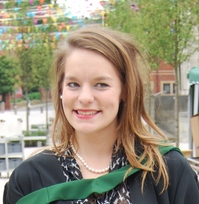 In my last post, I had just joined the graduate scheme at Cognizant, the global IT services and consultancy firm, within its insurance department. Six months on, I have gained a lot of valuable experience both inside and outside of my immediate role and am fully confident that I made the right career move.
While IT is the firm's heritage, the consultancy side is booming and it touches across all departments of the company. Because of this, I and many of my fellow graduates have more business-focused degrees and qualifications rather than specific IT skills. This recruitment strategy helps support Cognizant's vision to ensure client satisfaction at all times. By bridging the two disciplines we gain an understanding of what is going on in a particular business sector (through looking at its key challenges and objectives) and then deciding how IT can help organisations run better and run differently to meet its wider objectives, remain competitive and achieve growth. It is this business-centric approach rather than a hard-core IT focus that I think attracts more graduates, and in particular females, into IT and technology companies – I know it is why I chose the role. Such an approach allows new graduates to gain an appreciation of the business world and how technology, rather than being the domain of the IT geek, is a major business driver and differentiator.
In terms of my experience, I initially spent a lot of time in the Canary Wharf office learning from different people about the way the insurance department runs. I was able to network internally and gain a good understanding of the various clients before attending on-site visits. While much of my current role involves project management and research work, increasingly I am gaining more exposure to different clients, which is a great opportunity at my level.
Since starting, I have acquired many key business skills such as how to communicate to different levels and types of people (both internally and externally). I have also learned a great deal about organisation and time management to cope with heavy workloads. The latter has been one of the key challenges and I am sure I am not alone. In a busy work environment, you need to be able to juggle several projects at once and ensure that deadlines are met. I have worked hard to understand how to prioritise and determine the level of flexibility with certain deadlines and colleagues.
As part of my development at the company and in addition to my client work, I have also had the chance to brush up on my filmmaking and creative skills. I am currently working with another graduate to create a video for the Cognizant graduate website and recruitment fairs. This is a great project to be tasked with at such an early stage, which involves filming and interviewing various grads on the scheme about their roles in order to encourage more to join. Getting exposure to this kind of work not only provides more variety day-to-day, it really helps you feel valued by contributing to the wider business.
I am also working on another project with Cognizant graduates to enter a national competition to raise £1 million for The Prince's Trust Million Makers Challenge. This will culminate in a presentation and dinner early next year, with senior executives from Cognizant providing a fantastic opportunity for us to showcase our successes. This will be great for team building, networking and developing my presentation skills and I am really looking forward to it! As part of another charity drive, I am helping to organise a Race for Life event for Cognizant's Women Empowered initiative, which is specifically designed to support women in their careers. I think this is a great scheme to encourage females within the company to build a strong community and learn from each other – it is something I am looking to get more involved with over the coming months.
From my experience, here is what I think are the top skills required for today's graduates:
· Be ambitious – try to be an ambassador of the brand and replicate its ethos. Buy in to new products, services and initiatives and proactively contribute to wider business projects
· Be driven – you need to have passion for the business and its success. Always strive to do the best that you can in your role
· Be creative – this is not just about contributing ideas for the business or certain projects, it also involves being able to adapt and work with different people both internally and externally
Having spoken with friends and other graduates, I think the level of training and variety of opportunities I have been given at Cognizant is significantly higher than in other organisations. It is also great that we can work within different areas of the department and regions to see how different roles compare. From what I understand, this is quite a rare opportunity, but in my view it is critical in helping graduates to determine in which areas they would like to specialise.
Above all, I think it is essential for today's employers (regardless of sector) to be as supportive as possible and also provide opportunities that lie outside of the usual day job. Being able to really contribute to the wider business is a great feeling and one that will encourage younger employees to flourish.