Is the education system failing to raise young women's career aspirations?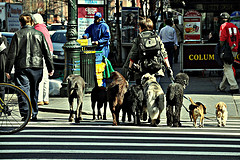 When I was three-years-old, I wanted to be a dog walker. Later, a school careers advisor told me the only suitable job for me was 'stunt girl' (after software designed to match individual skills with career options had gone horribly wrong).
Needless to say, I didn't take the software's advice. Or the teacher's. Or pursue a job as a dog walker.
But similar to my humble aspirations and misinformed career advice at school, research has shown many young girls in the UK don't pursue careers in fields of science and technology because they lack aspiration and encouragement from female role models.
Girls are better than boys at school
It's widely reported that girls statistically do better than boys in education. But Ofsted reckon that isn't translating into the same breadth of career choices.
A report published this month by Ofsted exploring girls' career aspirations shows most young girls aspire to be teachers, vets, nurses or hairdressers.
Nothing wrong with that, you say? The problem is this:
"Women are less likely than men to work in certain sectors such as science, engineering and technology," says Ofsted.
Ofsted thinks this is simply because young women are not aware of all their career options.
The statistics show an improvement, however. In 2000, 28% of technology students were girls. This rose to 44% in 2010. But there is still more to be done.
Career outlook
Girls from the age of six were aware of the stereotypical jobs for women. Girls aged 11 and over were open to pursuing a career "that challenged gender stereotypes". But these intentions were rarely followed through.
"Course and career choices made by the girls and young women, in the schools and colleges visited, were predominantly stereotypical and mirrored the national picture of take-up courses," said Ofsted.
The report suggests a lot of young women are encouraged into stereotypical work placements at school – as, I imagine, are the boys.
The overarching theme of the report is that girls follow non-stereotypical career paths when female teachers and professionals have helped promote those options.
Role models
It's clear that role models have a massive impact on young women's career choices. Hopefully, as more women get into technology careers, young girls will have more role models to inform their career choices from an early age.
If young girls are aware of all the options open to them, women can make informed career choices – whether they want to be a hairdresser, teacher, software developer or, heck, a dog walker or stunt girl.
Read the Ofsted report here, titled Girls' career aspirations.
Image used via Flickr courtesty of Jackiembarr under Creative Commons licensing.