Is E-skills UK's new video proof it's given up on girls?
E-skills UK, for those who don't know, is the Sector Skills Council for Business and Information Technology. It's licensed by government and tasked with the mission "to ensure the UK has the skills for Digital Britain, to secure Britain's place at the forefront of the global digital economy"…
As part of that mission, it's been associated in the past with work to help ensure that women's talents aren't wasted or lost to the IT industry. In March, it published research in the form of a women in IT scorecard so that you can benchmark how your organisation is faring in terms of diversity and equality – or just get your facts straight ready for battle with the cynics who say we're fussing over nothing when we look around a tech conference or an IT department and see very few female faces. So, some pretty good stuff there then.
It was also a backer of CC4G – Computer Clubs for Girls – which aimed to encourage girls aged 10-14 to think about the possibilities of an IT career.
But recently, it's begun to look like they're giving up the fight…
CC4G has rebranded as Connect, Create, Go, with a shifted, now 'gender-neutral', focus. (See CC4G: Why we've changed for the full story straight from them.)
@josiefraser challenged CC4G on Twitter about this, receiving this response: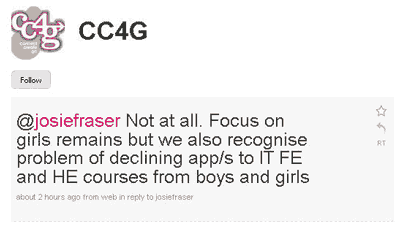 So, I guess given the claim from CC4G that applications to IT related courses are dropping overall, and so boys, as well as girls, need to be encouraged into IT, then perhaps the change to the CC4G mission is fair enough…
But how the ruddy hell can e-skills or its associated organisations explain away the "boys' own" tone of its new video campaign?
Watch the video and judge for yourself…
Yes, I know it's a Harry Enfield take-off (although I never found him that funny in the first place). And yes, I can appreciate a whole lot of work has gone into this, with the Pythonesque animations and all…
But gender neutral? I don't think so. The roll call of imagery includes: Lord Kitchener; geeks called Dwight, Dilbert & Duane; a teenage 'Pantsman'; a joke sex-magnet app that draws scantily clad women to the said-y-front-clad youth who is then urged to 'get a room!'; loads of robots*; the phrase 'Who's the Daddy?'; a "CHAP"; a shed; Superman; a fast car; and last but not least a couple of pathetic adolescent sight & sound gags about YouTubies and Titter. There are a couple of women pictured in the midst of some dull 'IT at work' shots, but that's it as far as representation of women's actual or potential involvement or interests are concerned.
If this really is all 'the ruddy future' has to offer, frankly, we're all doomed.
Ho hum. Let's hope they pull this campaign quick in favour of something more genuinely gender-neutral. The money might have been better spent directing people towards the parallel project 'Big Ambition'. That site includes a diverse range of individuals – male, female, different ethnic origins – discussing their varied IT careers under the banner 'Inspirational People'. Now that's more ruddy like it…
(* Actually, I'm quite partial to robots myself. But you get the point.)