In pictures: the business case for women in tech
The National Center for Women and Information Technology has produced a great report called Women in IT: the facts. The summary slides set out a crystal clear business case for boosting the number of women in tech.

Download this free guide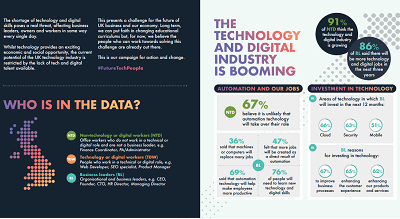 Infographic: How to future-proof UK technology
There is no doubt that the technology industry is booming right now, bringing with it exciting social and economic opportunities. However, there is a real fear that the UK industry may be stunted due to the lack of talent available. This e-guide helps to break down the future fears and expectations of dozens of business leaders and tech workers.
What's clear is that you can't just "decide to employ more women". That won't work. The whole problem is there are no women to employ – they're all busy feeling alienated and going into PR.
This report shows just how important it is to take a big-picture view of the issue. Going into schools to speak to girls about why technology is fun is a better plan than trying to increase the number of women on your team, and getting downhearted if and when it doesn't happen. It's taken a long time for us to slide into a position of there being so few women interested in tech and science, and it's going to take a long time to climb back out.
The report is US focussed, so the numbers aren't accurate for UK or Europe. But the pattern and the issues are the same across these countries, so it makes interesting reading. I found it through the Girls in Tech blog.