How can we attract more females to the IT Industry? Inspire them!
This is a guest blog by Jenny Taylor, UK foundation manager, IBM UK Ltd and is a finalist in the 'Inspiration of the Year' category at the 2015 FDM everywoman in Technology awards.

For many years now, we've all been acutely aware of the small percentage of females being attracted to and working in our industry.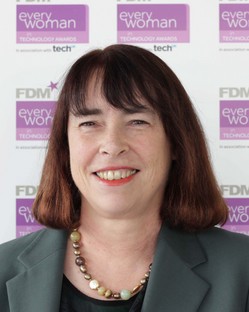 As leader of IBM's graduate, student and apprenticeship programmes, the gender imbalance is a high priority for me. The business case for diversity in the workplace is very clear yet despite multiple initiatives across our sector, the percentage of young women either choosing to study STEM related subjects or being attracted to technically orientated careers remains low.
At IBM we run many different initiatives and focus particularly on engaging and inspiring younger girls through our Girls' Schools' Outreach programme. This is a long term strategy which is starting to bear fruit in applications to our School Leaver and Apprenticeship schemes.
This year we focused our attention on our immediate graduate recruitment prospects and concentrated on the female students studying the UK Government and tech industry backed IT for Management and Business degree (ITMB). 33% of ITMB students are female (more than double the number of females studying Computer Science).
So focus decided, we invited fifty female ITMB students from around the UK over to our South Bank office to inspire them and share what we know about establishing a career in the tech industry.
The day was a huge success, bursting with interactive sessions, inspirational people and female role models to whom the students could relate.
IBM Master Inventor and Distinguished Engineer, Andy Stanford-Clark wowed the students with his story of setting up his own house to develop smarter metering and energy saving devices.
Interactive sessions challenged the students to consider how customer experiences can be improved by creating innovative new ways for consumers to pay for goods.
ITMB alumni and IBM's own MCA Young Management Consultant of the Year, Sarah Hughes, inspired the students with how Millennials can immediately add value in the tech workplace.
But for me, the overall highlight was the amazing buzz created throughout the day – the atmosphere was electric. This buzz has translated into amazing results. The percentage of students who applied for IBM roles as a result of this day was over double that of any other event we had held in the past year. Our team were blown away by these figures – we had seen this event as the start of an investment in these students – but what a result!
So, the answer to our problem is actually a simple one. Inform and inspire, yes, BUT to turn that lightbulb on, deliver these messages by people with whom the students can relate and aspire to match. Don't take my word for it – read it yourself:
Dear (Foundation Professional Development Manager)
I am messaging you to let you know I have just been offered the Business Intern position for the 2015 Extreme Blue program!
I am extremely happy and can't wait to join IBM this June. Thank you for all your support – contacting the recruitment team, but mostly for the conversation during the ITMB event in Southbank offices. I think talking to you was what made me really believe IBM may be a place for me and it is worth trying my best 🙂
ITMB Female Student Year 2