Getting Women into Technology - It's a talent contest, not a gender war
This is a guest blog by Diane Kegley, chief marketing officer at RichRelevance.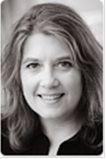 When I started my tech career 20 years ago, I was repeatedly warned that I was entering a 'man's world'. I have, however, always firmly believed that a successful career in technology is due to talent, regardless of gender.
My first introduction to the technology industry was at enterprise software firm Sybase. Here, I had to convince them that a new attitude and fresh approach could bring dividends to the technical arena, and then all I had to do was prove it! On my very first business trip, I studied all the technical manuals I could find, because I wanted to understand the software from the inside out. If I could understand the market and the customer's mindset, I could market the product much more effectively.
This attitude is not gender specific. I didn't work hard because I'm female, I worked hard because I was determined to succeed. It's important to remember that technology itself doesn't have a gender, mega data-sets are not XX or XY. Maths is pure abstraction, and engineering skills can be learnt… so why aren't more women and girls getting into tech?
RichRelevance, where I'm now chief marketing officer, is working hard to meet the challenge of gender parity. Our executives are committed to the conversation–but, like many tech companies, we have a way to go. Our company's leadership is 20 per cent female and our total employee statistics skew more male than female (79 women, 170 men). We want to attract the best and brightest irrespective of gender, but male applicants far outnumber female applicants.
As an industry it's important that we're celebrating the number of women in tech who have achieved exceptional things. We need to start young and ensure that science and technology subjects appeal to both boys and girls; to nurture the upcoming talent and show today's kids that the technology industry is an accessible and vibrant sector to work in. Let's work hard to bring forth shining examples of women in tech! This is crucial if we are going to inspire and educate young people that the technology industry is the place for them.
About Diane Kegley
As Chief Marketing Officer, Diane is responsible for driving global demand and visibility for RichRelevance's personalization and brand advertising opportunities – including corporate marketing, public relations, analyst relations, brand strategy, client marketing, advertising and business development. Diane has spent the last 20 years leading multichannel marketing, media and branding initiatives for companies like American Express, AOL, CNET, American Airlines, HP, Lockheed Martin, and Sprint.