Day 4 of Townley Grammar's California girls: Trip to Silicon Valley
This is a guest blog from Desmond Deehan, head teacher at Townley Grammar School for girls in Kent. Each year the school takes its GCSE and A Level computer science students to Silicon Valley to visit San Francisco, LA, the Computer History Museum and Stanford University and businesses such as Microsoft, Google, Facebook, Intel and NetApp to name a few. Deehan and his students will be blogging about their visit which is taking place this week.
Day 4 – Check-in at Facebook
We have arrived at Facebook. It's an unassuming building from outside, hiding a Disney themed village within, which we are told was designed by one of the board members who designed the Disney Village itself.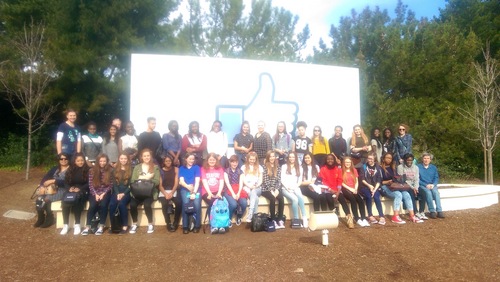 After careful security checks we were taken inside and met a series of female engineers and managers – software, servers and product. They each spoke about their background and career, which was diverse – appropriate, since it is the Facebook Diversity team that organised this. They had all faced prejudice as women in both university and the industry and had come to recognise how as women they often limited themselves through lack of confidence.
Their words of advice really resonated with the girls: find a support system of others like you; get used to fixing and building things; take risks since if you don't fail you're not trying hard enough. You are smart so get heard, don't wait for someone else to speak.
Around the site in simple A4 posters were statements that echoed their feelings: "At Facebook it is never someone else's problem"; "What would you do if you weren't afraid of failing?"
After giving a great deal of their time, answering questions and even sharing contact details, they summed up. The next step for the girls should be "to intentionally be open" and "to commit to stretch themselves."
Facebook values initiative, so "do something in your own time", take part in hackathons and "fake it 'til you make it". All great advice for girls grappling with their futures. As one student said, "Facebook changes how you look at life".
I think that counts as a definite LIKE from Townley girls!
My thanks to Anna, one of our young "boffins" for her editorial input on today's blog.