Can sitting down for future of IT muster up female ambition?
The National Center for Women in IT (NCWIT) based in the US is readying to launch its new 'Sit With Me' campaign to inspire more women participate in technical IT careers.
People working in the tech sector are invited to sit down on the campaign's red chair and discuss women in technology, thereby symbolising "sitting in their seat".
Facebook is a member of the NCWIT. Sara Sperling, head of diversity at Facebook, said increasing the number of women working in the tech sector is important for the company, adding that Facebook employees were "thrilled" to take part in the campaign.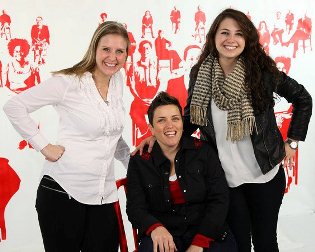 Image: Facebook employees Gina Marconi, Sara Sperling and Alex Hollander (left to right)
With tech giants like Facebook getting involved, the campaign already has a lot of big tech names to its cause.
It's interesting to hear the comments on the video below. The women speak of women lacking confidence to pursue technical roles. Other comments communicate the need for women's viewpoints within organisations to create "innovative solutions".
These comments chime with what Sheryl Sandberg, Facebook's COO, has previously said about women lacking the ambition of men to pursue senior roles; the majority of the comments on the video say we need women for their perspectives rather than their drive and ambition.
The question then is: does the tech industry or women themselves have a lack of ambition for a technical female workforce?
Facebook COO Sheryl Sandberg, Facebook COO, on why we need more female engineers:
What would UK tech professionals say if they were to sit in the campaign hot seat?