Bletchley Park specialist tour: Women of Bletchley Park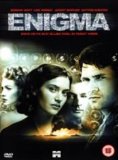 Apparently Kate Winslet's role in the WWII code-cracking film Engima was bumped up compared to her character's presence in the novel, presumably to add increased interest for female film-goers. But if you've ever wondered what it was really like to be a woman working in the Bletchley Park complex at the height of the war effort, now's your chance to find out.
On Sunday 26 July, Suw Charman-Anderson and others involved with Finding Ada have organised a specialist tour of Bletchley Park and the National Museum of Computing, focusing on women's involvement.The tour guide will be WWII Bletchley Park veteran Jean Valentine, and there's also a chance to see a short film on the Women of Station X, and the Enigma Machine itself.
For more information and to book, go to: Women of Bletchley Park Event