BCSWomen Lovelace 2012: Event Report
This is a guest blog from Dr Hannah Dee a lecturer in computer science at Aberystwyth University
On Thursday 12th April about 110 people descended on the University of Bath for the 5th BCSWomen Lovelace Colloquium. The Lovelace is one of the biggest events in the BCSWomen calendar and the aim of the day is to bring together women students of computing and related subjects from across the UK for a day of inspiring talks, networking, and careers advice. We also have a poster contest for students to talk about and display their own work. The day is run by a team of local organisers (this year headed up by John Power at Bath) and by BCSWomen volunteers (headed up by me).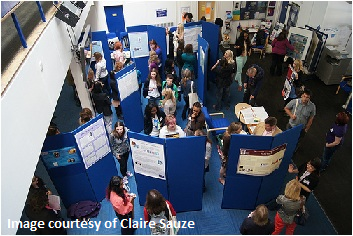 This year we accepted 45 posters in the contests, making it the biggest yet, and the quality of student work was amazing. Topics ranged from quantum computing through to ipad applications for editing UML diagrams. The poster contest judges had a terribly difficult job trying to decide winners, but after much deliberation the prizes went to the following people:
Google Excellence award for best poster by a first year (£500): Laura Deeley, University of Bath "AI in physical and emotional support for the elderly"

Thoughtworks best open choice poster, first prize (£300) Eleanor Mitchell, University of Bath "Quantum Computing: What is achievable?"; second prize (£200) to Catherine de Roure & Sophie Drake, also of Bath, for "Computational Computation"

Bloomberg best project work poster, first prize (£300) Francesca Day of Cambridge University for "The fidelity of the Ising model"; second prize (£200) to Zoe Benedict of Bath for "The analysis of public perception towards users Facebook profiles"

FDM Group best Masters student (£200): Wuraola Jinadu, Robert Gordon University (Aberdeen) "iPad UML Class diagram application"
We also have a people's choice award where attendees vote for their favourite poster, this year sponsored by Interface3 (£100). This went to Sarah Murfett of Sheffield Hallam university for "UK/US Extradition treaties: who owns the internet?".
The keynote talk was presented by Gillian Arnold, BCSWomen chair, who gave an inspiring presentation about the wealth of careers open to women in computing, and the reasons why it's important for women to go into IT careers. The McKinsey report on women in boards (and how companies with diverse boards perform better) made quite a few of the audience sit up and listen; women aren't important in computing just for political reasons – we're also important for the bottom line.
The other speakers were made up of two from industry, two from academia – we like to present the students with a range of role models and the speakers are an important part of this. Joanna Smith of Takeda R&D spoke about her career doing IT management within the pharmaceutical industry, and what it is like managing large interntational IT systems, and Monica Podsiadlo of Google spoke about text-to-speech synthesis. Amanda Clare of Aberystwyth University talked about DNA matching and computational biology, and Julie McCann from Imperial College London talked about wireless sensor networks and algorithms for coordinating hundreds of tiny computers.
The day finished with a networking social, featuring smoothies and cake (can't have a BCSWomen do without cake) and then we all went our own way back to our home universities and towns, a little bit tired, a little more enthusiastic and a little more confident about women in computing. If the poster presenters are representative of the future of women in computing, then we're going to be fine – they're brilliant.