Ada Lovelace Day coverage from Computer Weekly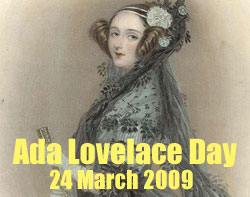 Got your copy of this week's issue of Computer Weekly? Then you'll already be aware that Ada Lovelace is our cover girl for today, Ada Lovelace Day, the initiative aiming to raise the profile of women working in technology through a global blogging pledge to post today about women's achievements in the industry.
Inside today's issue of Computer Weekly you'll find:
Online you'll also find:
And if that's not enough for you, why not revisit some of the profile pieces and interviews with successful women in IT that we've run in the past, including:
Finally, I'm still hoping I'll actually get my own pledge-post written here before the end of the day!
Update on 25/03/09: My pledge-post is done (over-long and confessional, admittedly – am out of practice at writing!) And I forgot to mention we also have a stats box on numbers of women and men working in IT in the UK in the issue, page 8, reproduced here for your convenience: