2011 London Hopper Colloquium poster competition winner returns
This is a guest post from Nicci Kerrison who is a PhD student in the Computer Vision group at the School Of Computing in the University of Leeds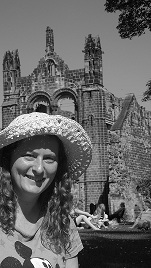 On winning the London Hopper Colloquium poster competition in 2011 I was both thrilled and excited at the opportunity to return and speak in 2012, but as the day approached these feelings had been replaced by fear. This was my first talk outside of my own University, and the first to such a large range of disciplines. By the morning of the talk my tongue felt double it's usual size and I was barely able to introduce myself.
Unfortunately, I hardly remember the first talk of the day as I was repeatedly reciting what I was going to say. I needn't have bothered. The moment I stood up I forgot everything, including the fact that I was allowed to stop and take a breath!
As the talk progressed I started to look round the room and realised that people actually looked interested and were even laughing at the parts that were meant to be amusing. By the time we got to the questions I was quite enjoying myself. Who doesn't like talking about their own work? The questions continued over the lunch break and it was great to hear the queries and advice from so many perspectives.
By the time the lunch break was over my heart rate was back to normal and I was able to thoroughly enjoy the rest of the day. I had been asked to help judge the posters and it was great to hear all the interesting work that's going on, and to be able to give my undivided attention to the remaining talks.
I had a lot of fun and met some really nice people. I'm looking forward to going back next year and enjoying the whole day in a more relaxed manner.