Though I'm really focusing this blog on the enterprise, it's been fascinating to follow the British general election and to see how social media has entered into daily use as a device for political campaigning – clearly defining new lessons for all organisations.

Download this free guide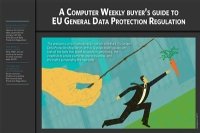 Computer Weekly's buyer's guide to GDPR compliance
This 12 page buyer's guide gives you the tools you need to get up to scratch with GDPR compliance and to understand the mythology surrounding the new rules.
One of the most obvious lessons faced by the politicians is that you can't reach everyone through social media. Yes it's powerful. Yes, all your friends and colleagues might be on Facebook and Twitter, but not everyone is engaging online. And those digital refuseniks might be the very people your business wants to reach.
The political parties have found their own campaigns energised by the use of TV and traditional advertising, such as on posters – anathema to the Twitterati. But take a look at this Conservative campaign poster situated by the M4 motorway in London.
It's making a statement. There is nothing funny or clever about it – it just makes a statement that would invite debate, if it were possible to argue with a poster. In a way, the brevity and directness of the message mirrors a 140-character micro-blog statement.
Are the political parties showing the road ahead for combined old/new media campaigns?