Download this free guide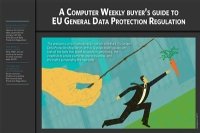 Computer Weekly's buyer's guide to GDPR compliance
This 12 page buyer's guide gives you the tools you need to get up to scratch with GDPR compliance and to understand the mythology surrounding the new rules.
If you don't know who JP Rangaswami is then go and take a look at his
Confused of Calcutta blog
now. He might be the Chief Scientist for the BT Group, but he demonstrates that executive blogging can – and should – be about a free flow of ideas. Not corporate promotion.
I'm really pleased to say that the
next CW500 event on May 19th in London
will feature both JP and me speaking about social media in the enterprise. JP will give his own experience as a senior executive using these technologies, and I'm going to focus on what has worked and failed for the people I work with.
Do check it out using the link to the Computer Weekly site above… I hope to see you as it will be the first time (of many I hope) that I've interacted with the CW500 club.