The Internet of Pigs might fly
"A year ago, to get people to let me talk to them about the Internet of Things for five minutes, I had to buy them a drink. Now, they're taking me to dinner."
The words of Cisco CEO John Chambers there, spoken in a keynote at Cisco Live earlier in May … also spoken at Cisco Partner Summit, and Cisco Live Europe, and to investors whenever he gets the chance, and, heck, pretty much every time he opens his mouth.
Well, when you hit on a bon mot you like to keep it in circulation for a little while.
"A year ago, to get people to let me…"
"Hush, honey, and eat your meatloaf."
John is right, though. The Internet of Things (IoT) is among us. Just last week Milton Keynes council signed an eighteen month deal to roll out a citywide IoT network with the ultimate objective of improving services such as parking provision and waste management. Yes, intelligent litter bins are coming soon to Buckinghamshire.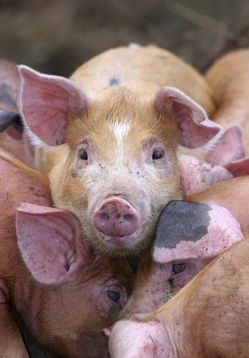 Now two Cambridge-based companies are taking the concept to the next logical step. Sensor and monitoring outfit General Alert (GA) has teamed up with IoT specialist 1248 to see if the Internet of Pigs will fly.
GA bills itself as a pioneer in the use of sensors and monitoring technology in the agricultural sector, and hopes to use 1248's Geras IoT database to improve livestock welfare.
Its sensors pick up billions of readings on environmental data such as temperature, humidity, drinking water flow and feeding rates, CO² concentration, and ammonia and pH levels. Its RFID and temperature tags are implanted in the pigs themselves, meaning the animal in effect becomes a 'thing'. Which is not to say it wasn't already a thing, but now it's a 'thing.' The quote marks are apparently important.
This data collected will have applications when it comes to stock management, farm productivity and efficiency, among other things, but can also serve as an alert system for farmers – a change in drinking or feeding behaviour, for example, could be a harbinger of disease in the herd.
With potential to deploy such sensor networks nationally, GA and 1248 reckon they could provide early warning of diseases such as foot-and-mouth, which caused major losses in the UK 13 years ago.
"Rising global population and standards of living are increasing the pressure on food-animal production, which leads to an increased requirement to manage animal productivity, health and wellbeing effectively," says Chris Dodge, IT director at General Alert.
"Sensors, electronics and communications technologies have reached a price point that is making it possible to deploy IoT systems that deliver real commercial benefit and Geras is a core building block of our solution. We are already working closely with veterinary, agricultural research and farm management companies and looking to expand the range of applications."
The Geras database is billed as a generic, scalable IoT service – an open standards-based infrastructure that accepts and manages data trickling in from many different types of device, so that applications can quickly access and ask high-level questions of it.
"Geras is designed to allow companies like General Alert to focus on what they do best – in this case, developing and deploying livestock technology," said Pilgrim Beart, CEO at 1248.
"Companies looking to rapidly harness the opportunities presented by the Internet of Things need to partner with experienced providers who understand how to build scalable architectures and are committed to open standards."