The Serious Organised Crime Agency (SOCA) has recently taken control of RnBXlusive.com after the music website was accused of hosting music illegally.
"The prosecution of criminal copyright infringement has globally been something of a mixed bag. While US prosecutors and courts have taken a fairly severe approach to online file-sharing hosts and the owner's subsequent sentences, this has not been reflected in other jurisdictions."
"For example, Spanish Courts seem to suggest that peer-to-peer networks are 'mere conduits' for the transmission of the data and therefore not liable. This "mere conduit" point arises out of the EU Electronic Commerce Directive 2000/31/EC, which has been effected by the EU member states. This defence applies in UK law as well.
"The 'mere conduit' defence for online file-sharing hosts was successfully used in the UK in the 2010 case of TV-Links. I then mounted a multi-faceted defence in the OiNK case, which included the 'mere conduit' point, but the prosecution dropped the case prior to responding in Court to the issues raised. I used a nearly identical defence in FileSoup and, again, the prosecution backed off and discontinued the matter. Of course, none of these results are binding on other UK courts, but it makes for interesting reading. Significantly there has still not been a successful prosecution of a file-sharing host site in the UK."
"Only recently, it has been troubling to learn of the plight of Richard O'Dwyer, who ran the TV-Shack site. The US is trying – and apparently succeeding – to extradite him to stand trial in a country in which there are far more severe sentences, little chance of public funding and where the EC defence does not apply. It is my view that there must be a unifying theme to these prosecutions – they are clearly at the behest of the major music labels and it would appear that the prosecutions are directed from afar."
"It was therefore my opinion that the prosecutorial and investigative failures in the UK had directly resulted in the attempts to extradite O'Dwyer to the US. Simply put, "If we can't successfully prosecute in the UK, find a way to get them somewhere where we can prosecute them successfully". However, this conspiracy theory of mine may have been entirely wrong – News has reached me recently that the RnBXclusive site has been taken down by the UK Serious Organised Crime Agency and the host has, apparently, been arrested.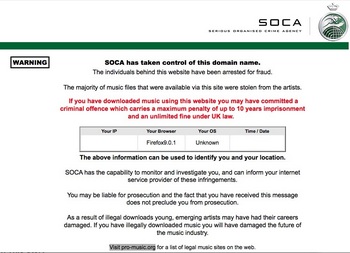 The warning that displayed on the RnBXclusive website until last night
"Firstly, it must be borne in mind that O'Dwyer was arrested by UK police who were kindly acting as messengers for their US counterparts who then swooped in, took all of the evidence and began the process of extradition. SOCA is more heavy-weight than the officers who arrested O'Dwyer, but they still might be mere cyphers in an investigation that is entirely US-based in origin and execution. Interestingly, US prosecutors state that they have jurisdiction to hear the TV-Shack case as it runs through a .com domain name, as does the RnBXclusive site. Eventually, the true picture will become clear but it may be that attempts are made to extradite the RnBXclusive host as well."
"The issues involved in this matter are entirely different to those in the MegaUpload case. OiNK and FileSoup were peer-to-peer file sharing sites in which users share the material between themselves by way of a 'swarm' which allows for a very efficient method of distributing the material quickly."
"The OiNK and FileSoup sites provided files, then opened in third party software which would then direct that software to the various distributors. Similarly TV-Links did not host the material and acted as an online directory. These sites were independent of the distribution."
"MegaUpload is a 'cyberlocker'. This is a site which specifically hosts the material that you want to store there. You can use cyberlocker sites to host anything you wish. You pay a subscription for the service and that is how owners such as the 'hilariously' named Kim DotCom made his money. The prosecution state that copyrighted material would be placed on MegaUpload and the address of where it could be found would be distributed. Downloaders would then obtain the material directly from the MegaUpload link. Whether DotCom acted dishonestly by providing this service is another matter. What is significant is that the material was obtained from MegaUpload itself. That makes it very different to the peer-to-peer filesharing websites that we have seen prosecuted before."
"As I understand it, RnBXclusive did not host the material itself and was more similar to TV-Links in the way it ran. It appears that the download links would be placed on the RnBXclusive pages, which, when clicked on, would take you off site, and to various cyberlockers, to actually download the material. The difficulty that RnBXclusive will have is that the mere conduit defence relies on the host being unaware of precisely what the material was and that, if copyright material was being distributed, it was the users who were responsible. It will be interesting to see what new information comes out and how things unfold."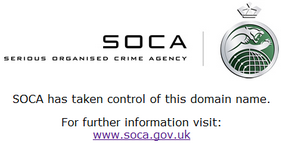 The new message that greets visitors when they click through to RnBXclusive
"It is alarming to read that SOCA approximate the losses due to RnBXclusive to be £15,000,000 per year. That does seem greatly exaggerated, but we haven't seen their calculations. In the past, such figures have been calculated using slightly flawed logic – one download equals one release and all tracks are each worth the cost of a full price individual for example. The issue that the material was "illegally" obtained from the artists is also worth further consideration given that music industry executives, desperate to appear to be 'down with the kids', have previously sanctioned early leaks of their products being uploaded to file-sharing sites in order to obtain a pre-release buzz."
"The US pressure on Europe in relation to perceived infringement does not stop there. The multi-national Anti-Counterfeiting Trade Agreement (ACTA) was drafted, in part, by the US, and seeks to further criminalise "commercial-scale" copyright and trade mark infringement. This will no doubt impact on the digital world, as well as in the physical world, and is another example of attempts to harmonise legislation that covers the internet – a world without borders. Current concerns about the legislation centre on it going too far. There is no doubt that copyright holders should be afforded the full protection of the law. However, many of the ACTA provisions appear disproportionate to the infringements that it is intended that they prevent. For example, ACTA codifies what is arguably a flawed idea that every unlawful download represents a lost sale, when calculating the losses through piracy. It also seeks to make Internet Service Providers liable for file-sharing by its users."
"The direct result of this will be an increase in monitoring by the ISPs and a feared resultant loss of liberty. It is not just digital freedoms that would be affected, the Agreement would also affect the sale of generic drugs – not counterfeit as such and, as they tend to be cheaper, the prohibition of which will directly affect the less well off in society (especially third world countries)."
"There is clearly a fine balancing act between protecting the legitimate interests of copyright holders and imposing overly restrictive legislation on the Internet using public. Various challenges have previously been made to Internet liberty but, as I see it, the Internet is still fairly unregulated. One way or another, this will change and may result in certain activities simply going underground. One things for sure, this cat-and-mouse between the authorities and a more knowledgeable and aware online community is not going to stop any time soon."