Free GPhone on £40+ monthly contracts from T-Mobile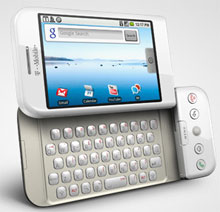 GPhone, Google phone, T-Mobile G1… Call it what you will, we now know how you can get your hands on the first Android phone – T-Mobile's exclusive new smartphone running on Google's Android mobile handset operating system. More or less.
The smartphone will be free on monthly contracts from £40+, says T-Mobile, including unlimited browsing.
Interested T-Mobile customers can get updates direct from the horse's mouth by registering online at www.t-mobile.co.uk/tmobileg1 or you can check out the G1 info on HTC's site.
Other key points in the T-Mobile G1 gphone announcement:
available in UK by Christmas 2008
QWERTY keyboard and trackball
3G (HSDPA) and Wi-Fi built in
microSD slot
3.2 megapixel camera
manufactured by HTC
built-in access to "Android Market" – Android's answer to the iPhone Apps store
Android's an open-source platform – so there's a chance it'll see faster, more flexible developments than other platforms…
Update @ 18:20 – Ian Grant's T-Mobile G1 story on ComputerWeekly.com has further details – the barcode scanner / price comparison application could be a great bargaining tool when haggling with 'price promise' retailers.