40 years on: Why Unix standards still matter.
A guest blog post from Andrew Josey, Director of Standards at The Open Group.

It might be as old as the moon landings, but the UNIX operating system is still as relevant today as it was back in 1969.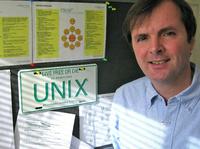 At 43 years old, it is older than the microprocessor, the PC, and even the video display terminal, and few software technologies since have proved more durable or adaptable than the UNIX operating system.
At the heart of this durability lies its stability. Since 1995, any operating system wishing to use the UNIX trademark has had to conform to the Single UNIX Specification, a standard of The Open Group.
Standard programming interfaces are an integral and scalable foundation on which today's Unix infrastructure is built; from embedded systems, mobile devices, internet routers, servers and workstations, all the way up to distributed supercomputers.
As well as the server systems from HP, Oracle, IBM, Fujitsu, Silicon Graphics and SCO Group, and the desktop systems from Apple, Unix also provides portability across related operating systems such as Linux and the BSD systems, and many parts of the standard are present in embedded systems.
The Single UNIX Specification ensures compatibility across all these platforms by providing a level of openness. Applications written to the standard can be easily moved across a wide range of platforms because it establishes a baseline of core functionality above which suppliers can innovate.
The standard enables suppliers to focus on offering added value, while providing guarantees about the underlying durability of their products.
And, when you consider that the UNIX interfaces have found use on more machines than any other operating system of its kind, having a single, maintained standard is incredibly important.
Backed with certification, the UNIX standard enables customers to buy with increased confidence, and this not only assists with application portability but also programmer skills portability.

The open source movement has brought new vitality to the UNIX tradition and the community of users of the UNIX standard is now wider than ever, including commercial vendors, related operating system developers such as Linux and BSD, and an entirely new generation of programmers.
Over forty years since it was created, and UNIX is still here, long after Buzz Aldrin and Neil Armstrong hung up their moon boots. And, with the proper standards in place to protect it, there's no reason why it shouldn't double those innings.

UNIX is a registered trademark of The Open Group
Download the Single Unix Specification

You can download more resources from the Open Group from the Computer Weekly Research Library. Topics include cloud computing, enterprise architecture, TOGAF, and security.