The Final Countdown: The last EMC World before Dell Technologies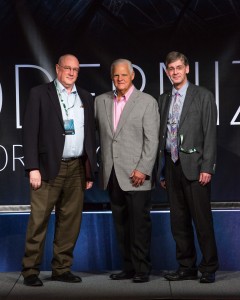 The recent EMC World event held in Las Vegas could have been a flop. With the Dell takeover of the EMC Federation (EMC Corp and all its divisions of EMC II, VMware, RSA, Pivotal and Virtustream) in full swing, it would have been easy for the EMC management to claim that they were in a 'quiet period' and so refuse to disclose much.
It wasn't quite like that.
Firstly, Joe Tucci (pictured left with Clive Longbottom and Tony Lock) was on stage saying his farewells (very pointedly, not his goodbyes), and talking about the synergies that were possible between the various parts of EMC and Dell. This was followed by Michael Dell exploding around the stage, looking far more animated and pumped up than I have seen him for many a year. It was obvious that this 'quiet period' is anything but – Dell and EMC are working hard to make sure that the new Dell Technologies (the chosen name for the new combined company) will hit the road not just running, but at light speed.
Such energy is laudable – but without evolution in what EMC is doing, ultimately futile. In a world where technology is changing so rapidly, EMC and its divisions have faced the possibility of being the next dinosaur; meeting the extinction event caused by the impact of the new all-flash array storage providers and the web-based, software as a service information and security management players.
In another article, I took a look at some of the possible outcomes from the merger.
I now have had to rethink. Not long after the article went live, VCE was spun in to the EMC II portfolio, with Cisco becoming less of an investor and more of a partner. At this year's EMC World, the main presentations were awash with converged and hyperconverged systems – it is obvious that VCE is unlikely to be sold off, but will take on the mantle of converged/hyperconverged within the new Dell Technologies Dell EMC division (the naming convention for the new 'family' – not, very pointedly, a 'federation' – is a little longwinded). Indeed, across pretty much everywhere, this drive toward hardware convergence was evident – even within the new DSSD offering (a massive super-fast all flash box based around direct attached, server-side storage technologies, but offered as a rackable system, named the D5). Whereas DSSD has been primarily a server-side storage system before, the D5 will be able to be installed in converged and hyperconverged modes.
This enhanced scale out as well as scale up capability is a strong differentiator for EMC, and so it will be for Dell Technologies. Some others in the hyperconverged markets have little scale out capabilities – if you run out of storage, buy another complete system. All that extra compute and network power is wasted, but at least you have more storage. With EMC VCE systems, each resource can be expanded independently, while still maintaining a hyperconverged architecture.
Noticeable by his absence was Pat Gelsinger, the CEO of the VMware division. VMware has been a focus of the acquisition deal for many reasons – one of which is that it is a publicly quoted company in which EMC owns 80% of the shares. The idea was for Michael Dell to raise a new share class to part fund the acquisition of EMC: the US SEC frowned on this and wanted full tax to be paid on the shares if this went ahead. This would have left a rather large hole in the financing of the deal. So, how much of the existing public shares should Michael Dell sell off to raise money? Selling off 29% still leaves him with a majority holding – but not much incoming funds. 50% would still give a 30% holding, which is still a board seat and a safety net against a hostile takeover of VMware (Carl Icahn is still a threat, and he is probably not happy since Michael Dell beat him and took Dell private). Selling 59% maximizes the incoming funds while still maintaining a seat on the board, but does make it easier for a hostile takeover to happen. How Michael Dell plays this, and the roll of Gelsinger going forward, will be interesting.
There were lots of other announcements at the event – it was pretty obvious that while there are a lot of discussions and machinations going on at the top of Dell and the various parts of EMC, the message to the EMC staff is 'full steam ahead' with continued new products across the board.
Again, all so good – but can the new Dell Technologies make it? I was all for Michael Dell taking Dell private; I have been cooler on the Dell/EMC deal. Why? The existing full 'solution' players have not fared well. HP has had to split in two; IBM has divested itself of large parts of its business and is reinventing itself around a cloud model. Regionally, French-based Bull has been acquired by Atos; Japan-headquartered NEC is seeing revenues continue to fall slowly; also Japanese-headquartered Fujitsu has seen its revenues plateau.
Into this landscape of underperformance will emerge the new Dell technologies – a global one-stop-shop for IT platforms. It is pretty dependent on managing the long tail of on-premise data centre installations; of making the most of the continued moves to colocation, and in becoming a platform of choice for the various 'as a service' players in the markets.
The first will be an ever shrinking market – Dell Technologies cannot count on this going forward. The second is a fair target: IBM will be less of a player here, leaving it pretty much a head-to-head between HP and Dell technologies for a platform sell. In the medium term, this is where the majority of Dell Technologies' money will come from.
On the third item, there remains a lot of work to be done on cloud product and messaging. The old Dell had tried and failed at being a public cloud operator itself, and had decided instead to become a cloud aggregator, something Quocirca supported. EMC bought Virtustream, and created an infrastructure as a service (IaaS) public cloud using Virtustream's xStream cloud management software, as well as EMC's Pivotal Cloud Foundry. From the presentations at EMC World, it is pretty evident that Virtustream cloud is still a strategic platform. However, EMC currently has too many different cloud services and messages – this will only be worse when the Dell Technologies deal goes through. Creating clearer messaging around a less complex portfolio and playing it effectively in the Dell Technologies "Enterprise Hybrid" and "Native Hybrid" cloud messaging will be key in battling AWS, Microsoft, Google, IBM and all the other cloud platforms out there.
Overall, then, it was apparent that the feeling within EMC is that the Dell deal is exciting, and that everyone is up for it. The feeling from the top is that the effort will be put in to make it all work, and that power bases will be dealt with as swiftly as possible to cut down on any internal wars breaking out. End users at the event also seemed positive – the early worries about what it meant to both companies seem to be disappearing.
However, the building of a massive, platform-centric company when others are moving away from the model could be the biggest gamble of Michael Dell's life. I really hope that it all works out well.