UK saves 5 quid on Oracle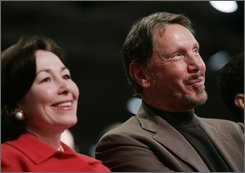 The Cabinet Office has shaved about a fiver off the cost of an Oracle licence after high powered negotiations in which minister Francis Maude pressed the flesh with Oracle president Safra Catz.
The minister claimed a coup for tax payers on Wednesday after concluding negotiations over a memorandum of understanding that sets prices central government departments will pay for Oracle software.
But while Maude's office claimed the deal gave British citizens more transparency over government business, it refused to clarify the dubious source of the £75m saving the minister claimed he had made with the deal.
The deal is supposed to save £75m over three years. But only a portion of the headline number came from an actual discount you could spit and shake on.
The rest came from shared services and licence sharing. That meant that some of £75m was derived from government offices buying fewer Oracle licences. This imaginary number was inflated by extrapolating its value over three further years when these non-Oracle licences would not be bought and therefore the money not spent and never even earmarked for spending could be accounted as a saving.
Licence sharing was similarly swizzed up as a saving for tax payers by making it sound as though Oracle had conferred on the government the special privilege of taking software bought but no longer needed by one department and sticking it in another department.
Cabinet Office refused to say what the actual discount was. A spokeswoman said it was "commercial in confidence". Yet it had been happy to trot out the £75m "saving" in a press release and claim it a boon for tax payers.
Pennies
It is doubtful the government made any saving worth talking about, if at all. A disgruntled government officer complained in November about Oracle's hold over public sector IT. 70 per cent of all software licences bought by central government departments were for Oracle software. That was 10 million licences.
The deal Maude parped about this week was for more licenses than those in central government. It covered emergency services as well. But his department couldn't say how many licences the deal concerned. Lets say for argument's sake it was just those 10m in central government. And lets assume for now the entire £75m "saving" was derived from a spit'n'shake discount. That would mean the government had saved £7.50 per Oracle licence over three years. That's £2.50 per licence per year.
But since the material discount was just one portion of the claimed saving, it would be generous to assume the government had saved even as much as a fiver on the cost of a licence. That's £1.60 per licence per year.
There may not, however, have been even that much of a saving to shout about.
The Office of Government Commerce (now called the Government Procurement Service) has had a similar MOU with Oracle since 2003. It started its last major round of MOU negotiations in 2009. The current discount arrangement sounds similar to the last. It is likely derived from the standard cost-price of Oracle software, similar to the MOU it has with Microsoft, not the actual current government spend on Oracle. That would make three imaginary numbers contributing to the £75m total.
So what has HM Maude really done for us?
The Oracle MOU might be such a poor deal that no-one takes it up, thus helping Maude achieve his promise to cut government's unhealthy dependency on a few suppliers, and so save real money and promote innovation.
The aforementioned disgruntled officer – the then outgoing deputy government chief information officer Bill McLuggage – had complained about the stifling effect government's Oracle dependence had on the market, on innovation and prices.
The Cabinet Office was today unable to say what it had done to reduce its Oracle dependency. CW has been waiting for Cabinet Office to clarify its numbers since Wednesday.
McLuggage had derived his Oracle numbers from a long promised survey of government ICT spending, which is yet in its infancy. This Assets and Services Knowledge Base (ASS KIT) is supposed to tell government what it's spending and what discount it's actually getting, something it's been promising to do for more than a decade.
Cabinet Office is not making the ASS KIT data available to the public – only to its suppliers. So much for transparency.